---
According to information published by Leonardo on October 22, 2021, AWHero RUAS (Rotary Uncrewed Aerial System) has received basic military certification from Italy's DAAA (Direzione degli Armamenti Aeronautici e per l'Aeronavigabilità), the Directorate for Air Armaments and Airworthiness. This achievement marks the world's first military certification for a RUAS in the 200kg class.
Follow Navy Recognition on Google News at this link
---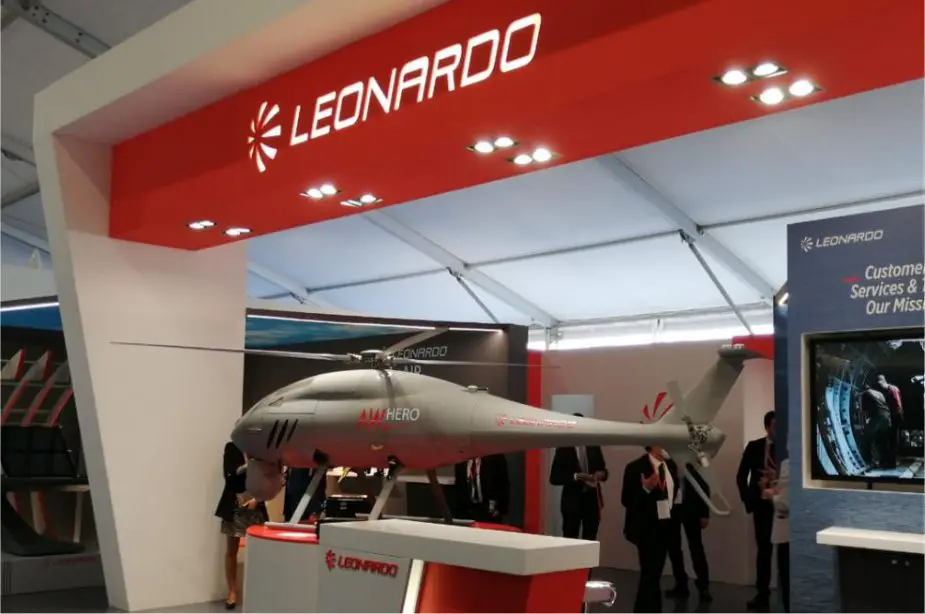 AWHero Rotary Uncrewed Aerial System at Seafuture 2021 (Picture source: Leonardo)
---
AWHero's design, development, production and support meet military airworthiness authority requirements delivering the highest levels of mission safety, reliability and availability to Armed Forces.
The military certification includes embarked operations and highlights the robustness of AWHero's design criteria and approach, paving the way for further development, integration and validation of expanded capabilities designed and planned for the system. This military certification is also based on elements of the worldwide recognised STANAG4702 standard.
AWHero design leverages on Leonardo's strength and extensive experience in rotorcraft development, system integration and embarked helicopter operations.
Since 2019, the platform has been conducting maritime surveillance capability demonstrations on ships within the framework of the OCEAN2020 initiative, the European Defence Fund strategic research programme for naval surveillance technology and maritime safety, comprising 43 organisations across Europe and led by Leonardo.
AWHero is also being evaluated in international tenders. Northrop Grumman Australia and Leonardo Australia's team has been shortlisted to proceed to the next phase of the SEA129 Phase 5 programme for the acquisition of a maritime uncrewed aerial system designed to deliver a deployable intelligence, surveillance, reconnaissance and targeting capability to the Royal Australian Navy (RAN).
The Northrop Grumman and Leonardo proposal will enhance capability effects and tactical decision-making during RAN maritime operations.
The AWHERO is a tremendous asset for the modern digital battlespace and guarantees safe operations and significant savings in various mission scenarios. Developed for land and naval operations, with maximum versatility in mind, AWHERO is the perfect solution in terms of cost-effectiveness for tasks such as maritime and border surveillance, homeland security, pipeline and powerline monitoring, monitoring the environment and critical infrastructure as well as supporting rescue efforts, disaster relief and damage assessment during natural disasters.
AWHERO has a maximum gross weight of 205 kg and a useful payload of 85 kg (fuel plus payload) with a maximum endurance in excess of 6 hours. The aircraft is designed to deliver high maintainability and low operating costs, multiple redundancies of all main critical systems for maximum reliability.
With a multiple payload capacity the AWHERO is able to meet a range of mission and customization requirements and is ready for maritime operations. Payload may include radar, such as the Leonardo Gabbiano Ultra Light, electro-optics, LiDAR, advanced communication systems among others.
---