---
According to a press release published by General Dynamics European Land Systems-Bridge Systems (GDELS-Bridge Systems) on October 22, 2021, the firm announced that it has successfully completed development with an alliance of public and private partners of a new improved, modular and multinational platform known as Pontoon Boat for civil protection and disaster relief efforts.
Follow Navy Recognition on Google News at this link
---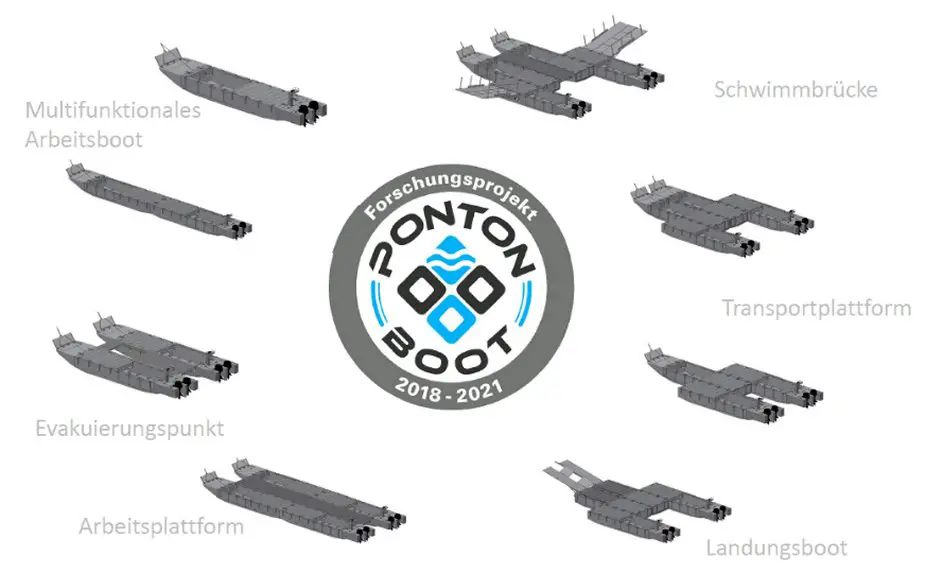 Artist rendering of future Pontoon Boats (Picture source: General Dynamics European Land Systems-Bridge Systems)
---
The prototype of the new pontoon boat will be present at an official event on the Elbe River in Hamburg in November.
The development of Pontoon Boat is part of the DIVERS program ("Innovation Program to Support Diversification Strategies of Defense Companies into Civil Security Technologies") launched in December of 2018 by the German Federal Ministry for Economic Affairs and Energy (BMWI).
The Pontoon Boat demonstrator, manufactured at GDELS-Bridge Systems in Kaiserslautern, has been specially developed for the needs of disaster relief operations. Its simple, safe and modular design allows it to be used even at higher water-flow speeds, such as in acute flood operations. When needed, heavy-duty bridges, transport platforms for vehicles, or large evacuation platforms for people and animals can be assembled using the modular system.
Pontoon Boat consists of a unique modular pontoon system that enables multiple configurations to be assembled in very little time, from a simple single boat to a heavy transport platform. This system uses a new connection concept developed by GDELS-Bridge Systems.
Sonar sensors will be used to measure the underwater profile and camera and laser systems will be used to describe the scenario above water. Via a drone and a faster scan boat, a navigable waterway shall be recorded first. The navigable waterway map can be used by both a boat operator and an autonomous control system.
A behavior-based control architecture will be developed for semi-autonomous control of the system. A realistic simulation environment will be built to test the control and perception at an early stage. The final validation of the approach will be done with the pontoon boat and the scan boats on a waterscape resembling a floodplain.
---