---
According to a tweet published by the Japanese Ministry of Defense on September 6, 2021, the Dutch frigate HNLMS Evertsen arrived at Japanese Yokosuka port for the first time in twenty years.
Follow Navy Recognition on Google News at this link
---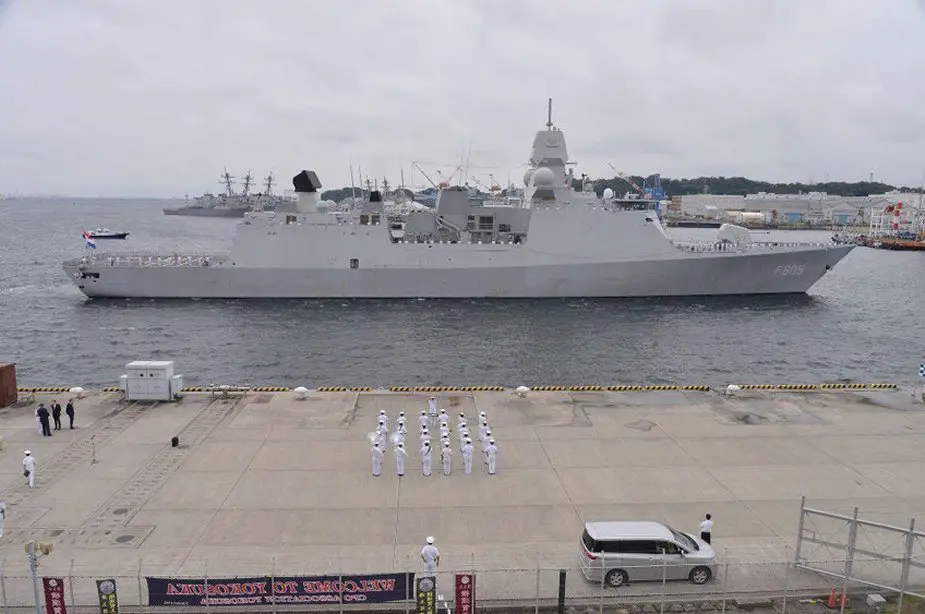 De Zeven Provinciën-class frigate HNLMS Evertsen from the Royal Netherlands Navy in Japan (Picture source: Twitter account of the Japanese Ministry of Defense)
---
HNLMS Evertsen (F805) is the fourth De Zeven Provinciën-class frigate of the Royal Netherlands Navy.
The De Zeven Provinciën class is a modern class of destroyers of Dutch origin. The Dutch navy classifies them as frigates, although internationally their displacement and weapons suite categorize them destroyers. They were developed to replace the two Tromp class air defense frigates and two more were ordered to replace two Korternaer class multipurpose frigates.
The design of the ships was developed from scratch. The hull design is shared with the German Sachsen class. The design is modern and features a reduced radar signature shape. The main gun and VLS are mounted at the front. The forward superstructure houses the bridge and APAR radar system. The engines and Harpoon missiles are mounted in the middle. The hanger with the SMART-L radar on top and helicopter deck are located at the rear.
As an air defense frigate it features a wide range of surface to air missiles. The Mk 41 VLS is fitted with quad packs of short range Evolved Sea Sparrow missiles and medium range Standard SM-2MR missiles and SM-3 missiles against ballistic missiles. Against surface targets the subsonic Harpoon missile or the 127mm OTO Melara cannon are used. Plans to fit Tomahawk IV have been shelved. Two double Mk 32 torpedo launchers for Mk 46 torpedoes are fitted amidships. Additionally two 30mm Goalkeeper CIWS systems and two 12.7mm M2HB heavy machine guns are mounted for self-defense.
---