---
According to information published by the U.S. DoD on April 26, 2022, the Arleigh Burke-class guided-missile destroyer USS Sampson (DDG 102) conducted a routine Taiwan Strait transit through international waters.
Follow Navy Recognition on Google News at this link
---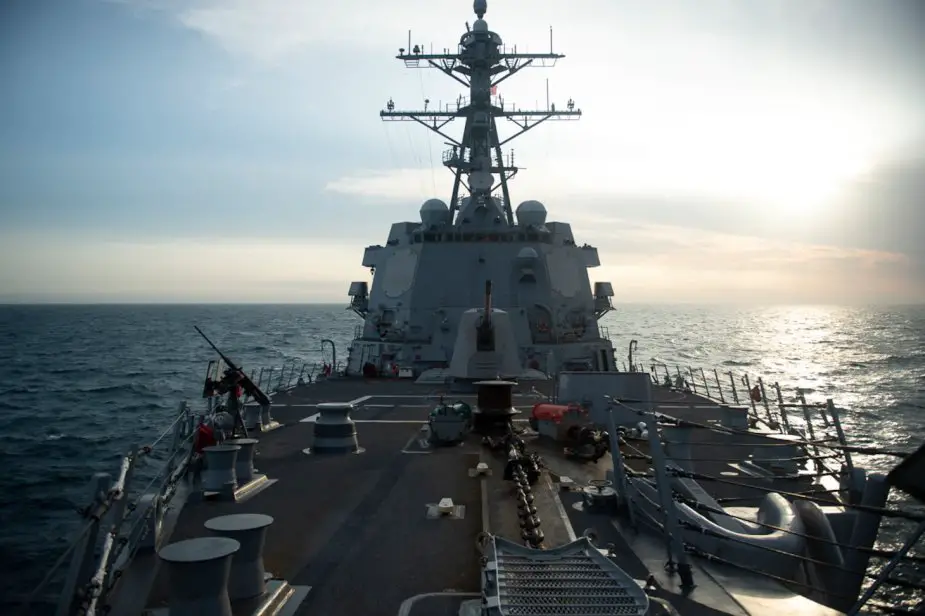 Arleigh Burke-class destroyer USS Sampson (Picture source: US Navy)
---
USS Sampson (DDG-102) is an Arleigh Burke-class destroyer in the United States Navy. Funding for the Flight IIA (5"/62, one 20mm CIWS variant) ship was authorized in 2002 and her keel was laid on 20 March 2005. She was built by Bath Iron Works in Bath, Maine.
Arleigh Burke-class destroyers are highly capable, multi-mission ships and can conduct a variety of operations, from peacetime presence and crisis management to sea control and power projection, all in support of the United States military strategy.
Guided-missile destroyers are capable of simultaneously fighting air, surface, and subsurface battles. The ship contains myriad offensive and defensive weapons designed to support maritime defense needs well into the 21st century.
The USS Patrick Gallagher will be powered by four General Electric LM2500 gas turbines developing 100,000 shp. She can reach a top speed of 31 knots (57 km/h).
The ship will be armed with one 5 inches (127 mm)/54 caliber Mk 45 naval gun, 25 mm Mk 38 automatic cannons, four .50 cal (12.7 mm) machine guns, one 20 mm Phalanx CIWS, two Mk 32 triple torpedo tubes for Mk 46 torpedo, 96-cell Mk 41 VLS able to launch RIM-66M medium-range surface-to-air missiles, BGM-109 Tomahawk long-range cruise missiles, and RUM-139 Vertical Launch ASROC anti-submarine missiles.
---