---
According to information published by Tass on April 26, 2022, Baltic Fleet antisubmarine warfare (ASW) ships, Parchim-class corvette, and helicopters have practiced searching for, detecting, and eliminating a simulated enemy's submarine during an exercise.
Follow Navy Recognition on Google News at this link
---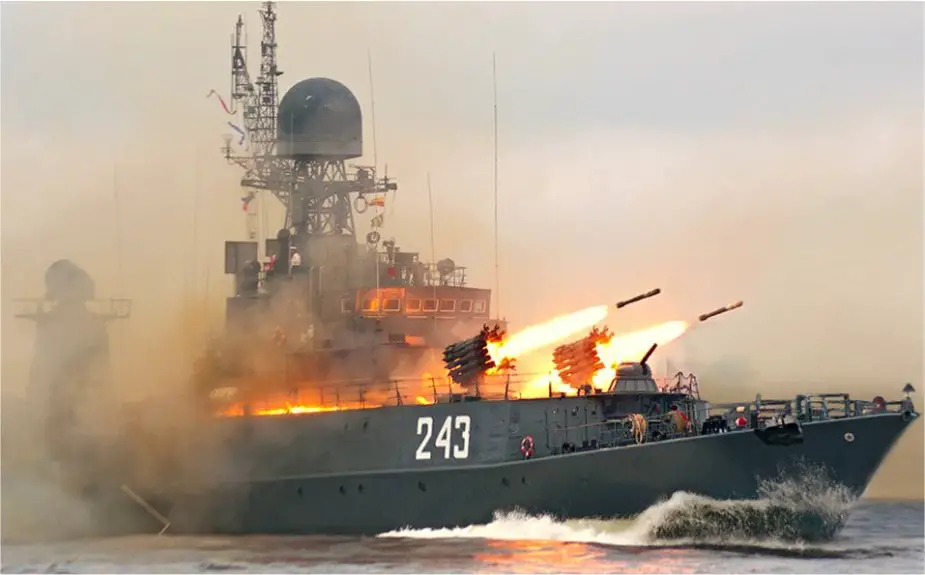 Russian Parchim-class corvette Kabardino-Balkaria firing RBU-6000 (Picture source: JP_Ronald)
---
According to the press office, the crews successfully classified the training targets and eliminated them with ASW weapons. They also fired RBU-6000 antisubmarine rocket launchers and torpedo weapons.
Besides, the seamen eliminated practice seaborne and aerial targets with artillery systems and held various drills on board the ships.
The Ka-27PL is the main antisubmarine helicopter of the Navy. It is designed to detect, track and destroy submarines in a submerged and surfaced state day and night in good or bad weather at various depths and speeds.
The helicopter can operate at a distance of 200 km from the deployment base. The helicopter is equipped with an Osminog aiming radar, a descending acoustic station, a magnetometer, and can carry pellets with acoustic buoys, torpedoes, depth, and marking bombs. It can effectively operate even in a rough sea.
The Parchim-class corvette, Soviet designation Project 1331M, was developed for the East German Navy in the late 1970s, and built by the Wolgast Peene-Werft. The ships were designed for coastal anti-submarine warfare.
The RBU-6000 Smerch-2 is a 213 mm caliber Soviet anti-submarine rocket launched. It is similar in principle to the Royal Navy Hedgehog system during the Second World War.
The system entered service in 1960–1961 and is fitted to a wide range of Russian surface vessels. It consists of a horseshoe-shaped arrangement of twelve launch barrels, that are remotely directed by the Burya fire control system (that can also control the shorter ranged RBU-1000).
The rockets are normally fired in salvos of 1, 2, 4, 8, or 12 rounds. Reloading is automatic, with individual rounds being fed into the launcher by the 60UP loading system from a below-deck magazine. Typical magazine capacity is either 72 or 96 rounds per launcher. It can also be used for shore bombardment.
---