---
According to a PR published by Huntington Ingalls on April 28, 2022, the firm announced that Virginia-class submarine New Jersey (SSN 796) was recently launched into the James River at the company's Newport News Shipbuilding division.
Follow Navy Recognition on Google News at this link
---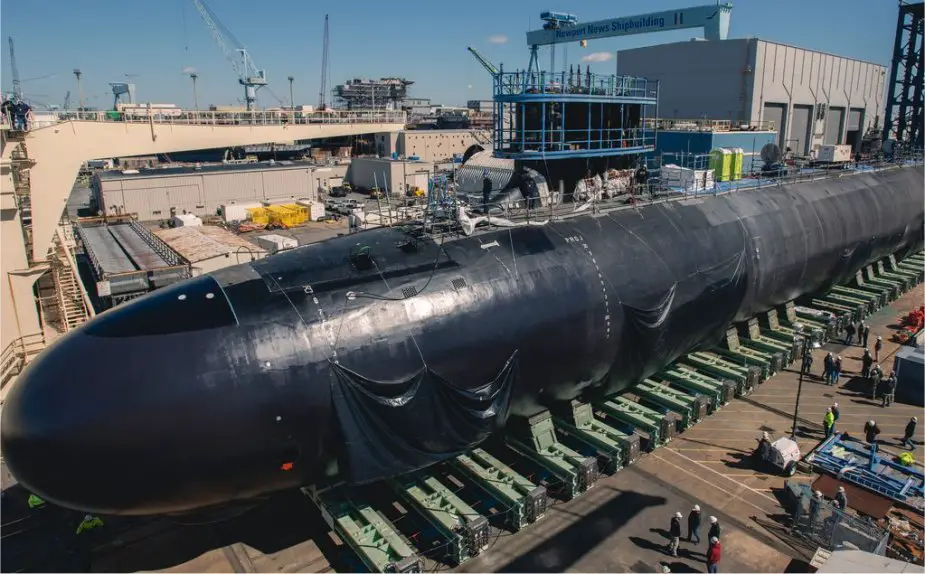 Virginia-class submarine USS New Jersey (Picture source: HII)
---
The 7,800-ton submarine, which had been in a floating dry dock since being transferred from a construction facility in March, was submerged and moved by tugboats to the shipyard's submarine pier for final outfitting, testing, and crew certification.
Through the teaming agreement with General Dynamics Electric Boat, approximately 10,000 shipbuilders, as well as suppliers from 50 states, have participated in New Jersey's construction since the work began in 2016. New Jersey is approximately 92% complete.
Virginia-class submarines, a class of nuclear-powered fast attack submarines, are built for a broad spectrum of open-ocean and littoral missions to replace the Navy's Los Angeles-class submarines as they are retired.
Virginia-class submarines incorporate dozens of new technologies and innovations that increase firepower, maneuverability and stealth to significantly enhance their warfighting capabilities. These submarines are capable of supporting multiple mission areas and can operate at speeds of more than 25 knots for months at a time.
The Virginia-class submarine has a length of 114.8 m, and a beam of 10.36 m. The submarine can reach a top speed of 28 miles per hour (45 km/h). She has a crew of 132 people including 15 officers and 117 enlisted.
The Virginia Class is equipped with twelve Vertical Launch System (VLS) tubes and four torpedo tubes (starting with SSN 784 North Dakota [Block II], the 12 VLS tubes are replaced by 2 large-diameter payload tubes). The submarines also carry Mk 48 ADCAP Torpedoes, UGM-109 Tomahawk cruise missiles, Mk 60 CAPTOR mines, advanced mobile mines, and unmanned underwater vehicles.
Block IV submarines (SSNs 792-801) incorporate design changes focused on reducing the Total Cost of Ownership (TCO). By making smaller-scale design changes to increase the component-level lifecycle of the submarine, the time between depot maintenance availabilities is increased as are the number of deployments.
During their service life, Block I-III submarines will undergo four depot maintenance availabilities and conduct 14 deployments. Block IV design changes will reduce the planned depot maintenance availabilities to three and increase deployments to 15.
---