---
According to information published by Tass on August 1, 2022, a naval parade on the occasion of Russia's Navy Day took place at the Syrian port of Tartus and involved 13 Russian warships and vessels.
Follow Navy Recognition on Google News at this link
---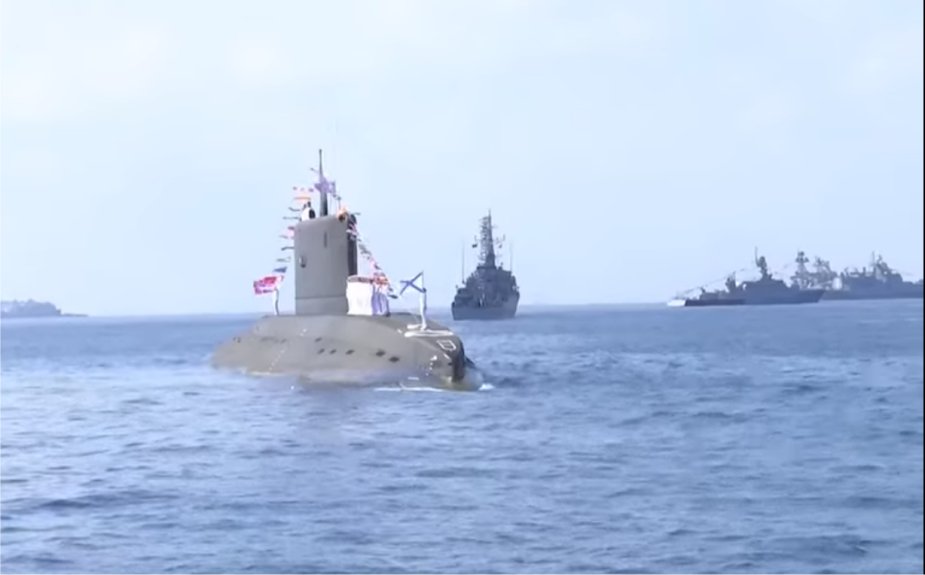 The Russian submarine and warships during the Russian Navy Day at the Syrian port of Tartous. (Picture source: Russian MoD)
---
The parade involved the missile cruiser Marshal Ustinov, the large antisubmarine warfare ship Vice Admiral Kulakov, the frigate Admiral Grigorovich, the frigate Admiral Kasatonov, the small missile ship Orekhovo-Zuyevo, the seagoing minesweeper Vladimir Yemelyanov, the submarines Novorossiysk and Krasnodar, as well as a seagoing minesweeper and two missile boats of Syria.
The Russian ships that participated in the naval parade in Tartus are part of the Russian Navy's Mediterranean standing task force. The naval parade was reviewed by Commander of Russia's task force in Syria Hero of Russia Colonel General Alexander Chaiko and was commanded by Captain 1st Rank Dmitry Dobrynin aboard the Kadet anti-saboteur boat.
About the Alexandrit class minesweeper Vladimir Yemelyanov
The Alexandrit class, Russian designation Project 12700 Aleksandrit (for the mineral alexandrite), is the newest class of Russian minesweepers designed by Almaz and being built by the Sredne-Nevsky Shipyard for the Russian Navy.
The first ship was laid down on 22 September 2011 and was launched in June 2014. Anywhere between 30 and 50+ ships have been described as envisaged.
The main feature of project 12700 is a monolithic fiberglass hull shaped by vacuum infusion, a modern construction method that results in a lighter hull with longer service life.
The ships of the class are designed to use various flails, as well as tele-guided and autonomous unmanned underwater vehicles and unmanned surface vehicles to disable or destroy mines at safe distances.
The minesweepers have a length of 61.0 m (200 ft 2 in), a beam of 10.2 m (33 ft 6 in), and a draught of 2.68 m (8 ft 10 in). They can reach a top speed of 16.5 knots (31 km/h).
---