---
According to information published by Opex 360 on August 2, 2022, the Chinese Type 001 aircraft carrier Liaoning and the second aircraft carrier Shandong set sail before Pelosi's visit to Taiwan.
Follow Navy Recognition on Google News at this link
---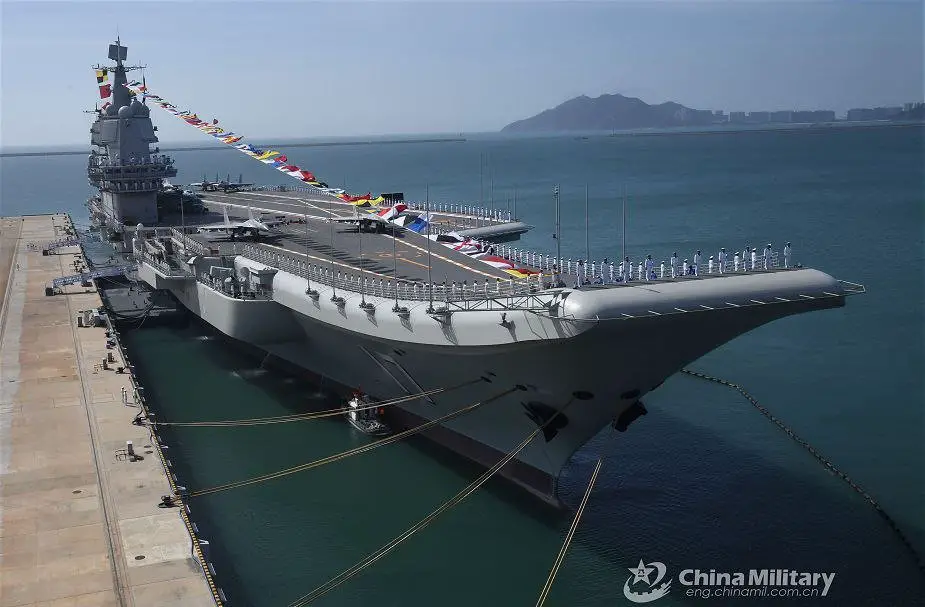 The PLA Navy's aircraft carrier Shandong (Picture source: Chinese MoD)
---
Shandong is a Chinese aircraft carrier that was launched on 26 April 2017 for the People's Liberation Army Navy (PLAN) of the People's Republic of China.
It is the country's first domestically built aircraft carrier and second in PLAN service after the completion and commissioning of Liaoning, from which it is derived.
Shandong's class was initially suspected to be designated Type 001A (as Liaoning received the designation Type 001) but was revealed to be Type 002 at its commissioning ceremony. The class received the NATO reporting name Kuznetsov Mod. ("modified").
The aircraft carrier's design is largely based on China's first carrier Liaoning, which was itself built from the partially-complete hull of the Soviet Kuznetsov-class aircraft carrier Varyag.
It retains the ski-jump takeoff, which limits its air wing to helicopters and Shenyang J-15 fighter jets of the People's Liberation Army Navy Air Force, and the ship is powered by conventional oil-fired boilers driving eight steam turbines derived from the Soviet-designed examples installed on Liaoning. It measures about 305 metres (1,001 ft) long, with a displacement of about 55,000 tonnes (66,000–70,000 loaded).
The Shandong is a significant improvement over the Soviet-built Liaoning. For example, the Shandong carrier's ski jump has an angle of 12.0° instead of 14.0° on the Liaoning. This is an ideal angle for launching the Shenyang J-15 fighter.
Together with the enlarged hangar, the island has been made smaller by 10% and extended on sponsons in the aft-starboard quarter. The island includes a second glazed deck which permits the bridge and flight control areas to be separate, creating greater operational efficiency. It also features a faceted upper area of four active electronically scanned arrays (AESAs) for the improved Type 346A S-band radar (Type 346 radar).
Shandong, like its predecessor, uses the simpler "short take-off but arrested recovery" (STOBAR) launch and recovery system.
---