---
According to information published by the Azerbaijani MoD on August 5, 2022, the Kazakhstan class missile boat Saryarka and military personnel of the Kazakh Navy arrived in Azerbaijan to participate in the "Sea Cup" contest to be held as part of the "International Army Games-2022" in the territorial waters of Azerbaijan in the Caspian Sea.
Follow Navy Recognition on Google News at this link
---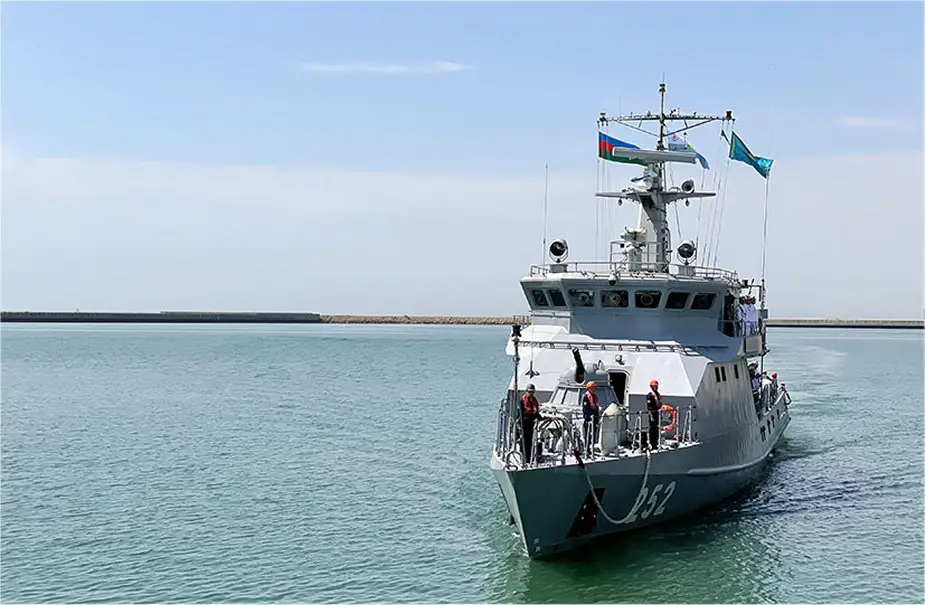 Kazakhstan-class missile boat Saryarka, Baku, August 2022. (Picture source: Azerbaijani MoD)
---
The Kazakhstan-class missile boats are domestically produced missile boats from Kazakhstan's Uralsk Plant Zenit JSC. They are the first domestically produced naval vessels in Kazakhstan and are stationed in the Caspian Sea in service with the Kazakh Navy.
Ships in the class have a displacement of 240 tons, a top speed of 30 knots, and are armed with "modernized anti-aircraft missile and artillery units." They are the largest vessels in the Kazakh Navy arsenal. There are four ships in the class, named Kazakhstan, Oral, Saryarka, and Mangistau.
They have a length of 41.8 meters, a beam of 7.8 meters, and a draught of 2.5 meters. The ships are powered with 2 MTU 16V4000 M71 diesels and carry a complement of 30 sailors.
The Kazakhstan-class missile boats are armed with a 30 mm AK-630 6-barrel CIWS, quad Baryer-V missile launcher, and quad Arbalet-K surface-to-air missile launcher.
The International Army Games is an annual Russian military sports event organized by the Ministry of Defense of Russia (MoD). The event, which was first staged in August 2015, involves close to 30 countries taking part in dozens of competitions over two weeks to prove which is the most skilled. The games have been referred to as the War Olympics.
---