---
According to information published by Luerssen on August 5, 2022, in another exciting development for the Arafura Class Offshore Patrol Vessel (OPV) Program, construction has officially started on OPV 6.
Follow Navy Recognition on Google News at this link
---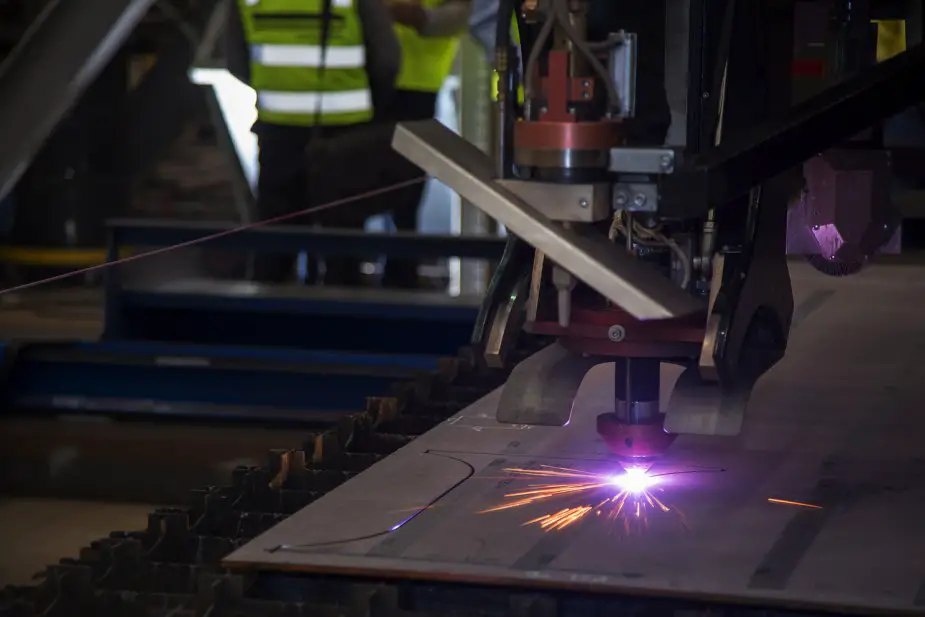 Steel cutting ceremony of the Arafura class OPV HMAS Carpentaria. (Picture source: Luerssen)
---
The first piece of steel has been cut in Henderson, WA, for what will be known as HMAS Carpentaria. Luerssen Australia now has six vessels under construction in South Australia and Western Australia. Overall, Luerssen Australia will deliver 12 OPVs to the Royal Australian Navy.
About the Arafura class Offshore Patrol Vessel
The Arafura class is a class of offshore patrol vessels being built for the Royal Australian Navy (RAN).
Initially proposed in the 2009 Defence White Paper and marked as procurement project SEA 1180, it was originally planned that 20 Offshore Combatant Vessels (OCV) would replace 26 vessels across four separate ship classes: the Armidale-class patrol boats, the Huon-class minehunters, the Leeuwin-class survey vessels, and the Paluma-class survey motor launches.
The Arafura-class is based on the Lürssen-designed Darussalam-class, operated by the Royal Brunei Navy.[1] Each vessel has a gross displacement of 1,640 tonnes, and measures 80 metres (260 ft) long, with a beam of 13 meters (43 ft) and a draft of 4 metres (13 ft).
Propulsion power is from two MTU 16V diesel engines rated at 4,440 kilowatts (5,950 hp) each, which drive variable pitch propellers and give a top speed of 22 knots (25 mph), and shipboard electrical power is generated by MAN diesel engines.
The ship's range is about 4,000 nautical miles (7,400 km), with an endurance of 21 days. The standard crew complement is 40 sailors, though up to 20 more can be berthed if required.
The ships will be deployed with empty space available to install container-mounted systems such as aircraft support and sensors; if fully utilized, the gross displacement could increase to 1,800 tonnes.
Shipboard armament was originally intended to be a single 40 mm gun and two 12.7 mm guns. The 40 mm gun was canceled in 2021 due to a combination of technical problems and a re-assessment of the threats the ships would face. The ships will instead be armed with a Typhoon Weapon Station on an interim basis until a replacement weapon is identified and then acquired.
Each vessel carries two 8.5-meter (28 ft) rigid inflatable boats and a single 10-meter (33 ft) boat, which are intended as the primary means of deploying offensive force in the ships' border patrol role.
A single unmanned aerial vehicle is carried and deployed from an open utility deck. Two separate electro-optic targeting systems and three radars are installed and managed by the Saab 9LV system.
---