---
According to information published by Aoosk on August 9, 2022, Admiralty Shipyards (a part of United Shipbuilding Corporation) have started the final stage of the factory sea trials of the Lada class submarine Kronstadt.
Follow Navy Recognition on Google News at this link
---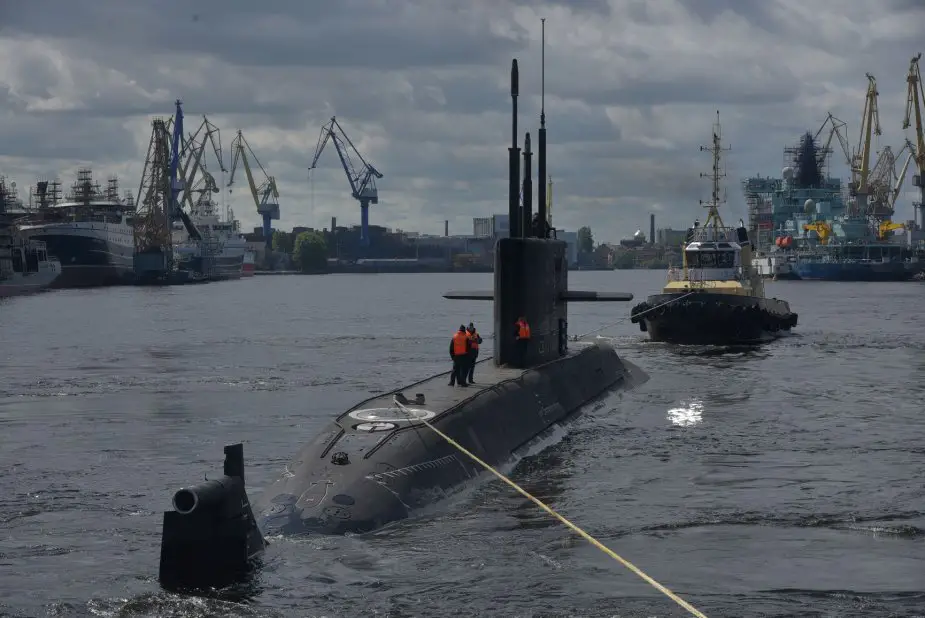 Russian Lada class submarine Kronstadt (Picture source: Aoosk)
---
Within the framework of the event which will be held at the polygons of the Gulf of Finland, the specialists will check the electric propulsion system, the efficiency of the hydroacoustic complex, technical means, and devices at the working depth.
The delivery team will test the torpedo and missile armament, and check the maneuverability of the elements in the underwater position and the steering devices at maximum speed.
After the return of the submarine to the berth of the Admiralty Shipyards, the workers of the shipyard will proceed to eliminating the remarks and preparing the Kronshtadt submarine for the state tests.
In June 2022 the enterprise laid down the fourth and the fifth submarines of project 677 - "Vologda" and "Yaroslavl", respectively. The state contract for their construction was concluded between Admiralty Shipyards and the Ministry of Defense of the Russian Federation in June 2019 during the Army-2019 Forum.
Project 677 submarines belong to the fourth generation of non-nuclear submarines and are currently recognized as the most modern and promising domestic non-nuclear submarines, both in terms of combat effectiveness and other tactical and technical characteristics. "Admiralty Shipyards is the only plant building ships of this class.
Kronstadt is 68 m long and has a submerged displacement of 2,650 t. The submarine features a full underwater speed of 21 knots and a surface range of 6,000 nautical miles at a speed of 7 knots.
The combatant is armed with six 533 mm torpedo launchers and has a 37-strong crew. Unlike underwater combatants of previous generations, the Project 677 submarine can fire cruise missiles in salvo mode against sea targets.
She is fitted with a modern combat management system, cutting-edge sonar unit, new anti-sonar coating, and externally mounted extendable subsystems.
---