---
According to information published by Военный Осведомитель on August 8, 2022, new photos of the Russian aircraft carrier Admiral Kuznetsov have been released.
Follow Navy Recognition on Google News at this link
---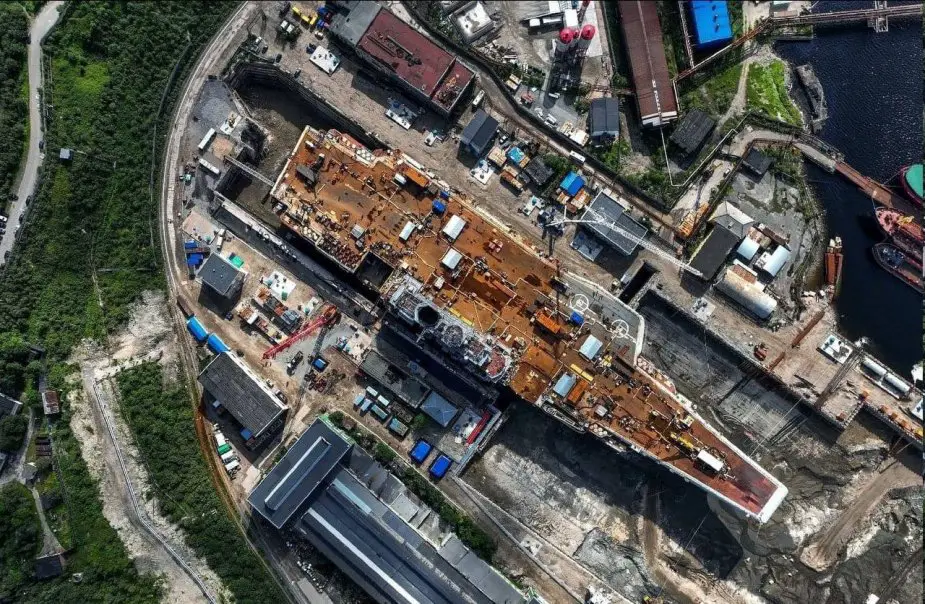 Russian aircraft carrier Admiral Kuznetsov (Picture source: Военный Осведомитель)
---
Admiral Flota Sovetskogo Soyuza Kuznetsov is an aircraft carrier (heavy aircraft cruiser in Russian classification) serving[clarification needed] as the flagship of the Russian Navy.
She was built by the Black Sea Shipyard, the sole manufacturer of Soviet aircraft carriers, in Nikolayev within the Ukrainian Soviet Socialist Republic (SSR) and launched in 1985, becoming fully operational in the Russian Navy in 1995.
The aircraft carrier Admiral Kuznetsov has a length of 305 m (1,000 ft 8 in), a beam of 72 m (236 ft 3 in), and a draft of 10 m (32 ft 10 in). She can reach a top speed of 29 knots (54 km/h; 33 mph).
The flight deck has a 14,700 m² runway and aircraft take off from a ramp at an angle of 12°. The deck is equipped with lightning rods. Two elevators on the starboard side take aircraft from the hangar to the take-off deck.
The ship can carry 16 Yakovlev Yak-41M aircraft (NATO code name Freestyle), 12 Sukhov Su-27K aircraft (NATO code name Flanker), fixed-wing aircraft, and several helicopters including the Kamov Ka-27-LD (NATO code name Helix), 18 Kamov Ka-27 PLO and two Ka-27-C helicopters.
The aircraft carrier is equipped with the Granit anti-ship system, equipped with 12 ground-to-ground nuclear missiles. The Granit missiles (NATO code name - SS-N-19 Shipwreck) have a range of up to 400 km and can carry both nuclear and conventional warheads.
The anti-aircraft defense system Blade, with 24 vertical launchers and 192 missiles, protects the ship from enemy missiles, aircraft, and naval vessels. The system has a multi-channel electronic warfare radar and can reach firing rates of up to one missile every three seconds. The ship is capable of engaging four targets simultaneously in a 60° x 60° sector. The range of the system leaves 12 km by 15 km.
The anti-aircraft weapon/missile system, which is manufactured at the design bureau and at the TulMashZavod in Tula, provides protection against point weapons, including anti-ship and anti-radar missiles, aircraft, and small naval targets.
There are eight systems along with a missile launcher, a 30 mm dual gun, and a radar/optronic guidance device. The laser-guided missile has a kill range of 1.5 km to 8 km. The gun can fire up to 1,000 times per minute at a distance of 0.5 km to 1.5 km. Six AK630 AD 30 mm anti-aircraft guns are also part of the ship.
---