---
According to information published by the Greek MoD on August 6, 2022, PASSEX (Passing Exercise) co-training sessions were held between the Hellenic Navy, the French frigate FS GUEPRATTE and units of the Cyprus Naval Command.
Follow Navy Recognition on Google News at this link
---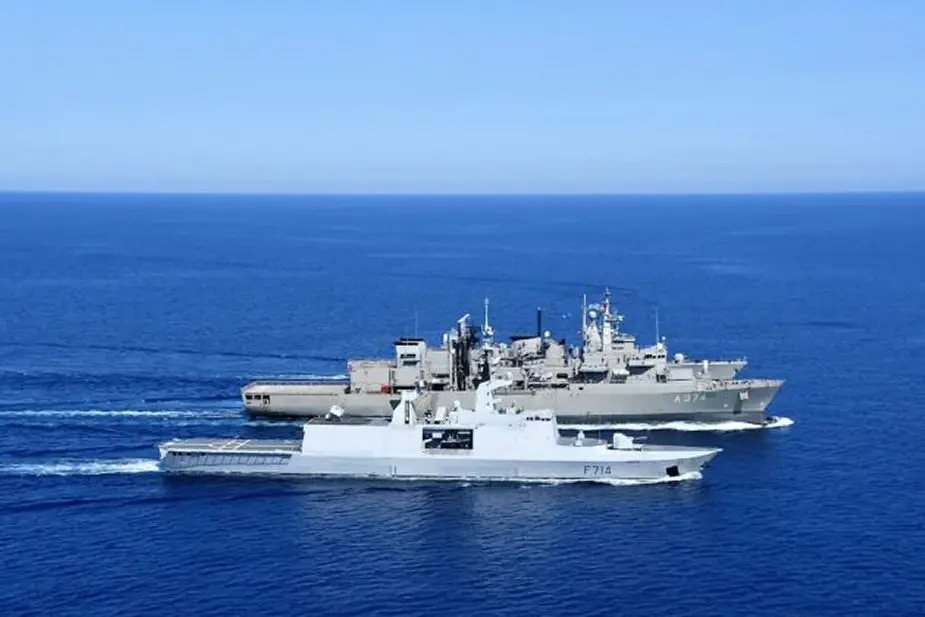 French frigate Guépratt and Hellenic Navy's Etna-class replenishment oiler and Elli-class frigate Kanaris. (Picture source: Greek MoD)
---
Specifically, in the first co-exercise, the frigate Kanaris and the Etna-class replenishment oiler Prometheus participated with the French Frigate FS Guepratte in the wider maritime area south of the port of Marseille, while in the second one, which was coordinated by the Search and Rescue Coordination Centre (RSCC) of the Republic of Cyprus, involved the Jason-class tank landing ship Ikaria with the Fast Patrol Boat Georgiou, the Fast Patrol Boat Ammochostos, the OPV Alasia and a helicopter AW-139 of the 460th Search and Rescue Squadron of the Republic of Cyprus in the wider maritime area south of the port of Limassol.
About the frigate Kanaris
HNLMS Jan van Brakel (F825) was a frigate of the Kortenaer class. The ship was in service with the Royal Netherlands Navy from 1983 to 2001. She was renamed HS Kanaris (F464) on transfer to the Hellenic Navy in 2002.
In the early 1970s, the Royal Netherlands Navy developed a "Standard" frigate design to replace the destroyers of the Holland and Friesland classes. The 'Standard' design would have anti-submarine (the Kortenaer class) and anti-aircraft (the Jacob van Heemskerck-class) variants with different armaments on a common hull design.
The frigate is 130.2 metres (427 ft 2 in) long overall and 121.8 metres (400 ft) between perpendiculars, with a beam) of 14.4 metres (47 ft 3 in) and a draft of 4.4 metres (14 ft 5 in). Displacement is 3,000 long tons (3,050 t) standard and 3,785 long tons (3,846 t) full load.
The ship is powered by two 25,800 shaft horsepower (19,200 kW) Rolls-Royce Olympus TM 3B and two 4,900 shaft horsepower (3,700 kW) Rolls-Royce Tyne TM 1C gas turbines in a combined gas or gas (COGOG) arrangement, driving two propeller shafts. The Olympus engines give a speed of 30 knots (35 mph; 56 km/h) and the Tyne cruise engines gave a speed of 20 knots (23 mph; 37 km/h).
---