---
According to information published by Tass on August 12, 2022, ships and vessels of the Northern Fleet's Arctic grouping formed on the basis of the Kola Flotilla have gone to the Barents Sea.
Follow Navy Recognition on Google News at this link
---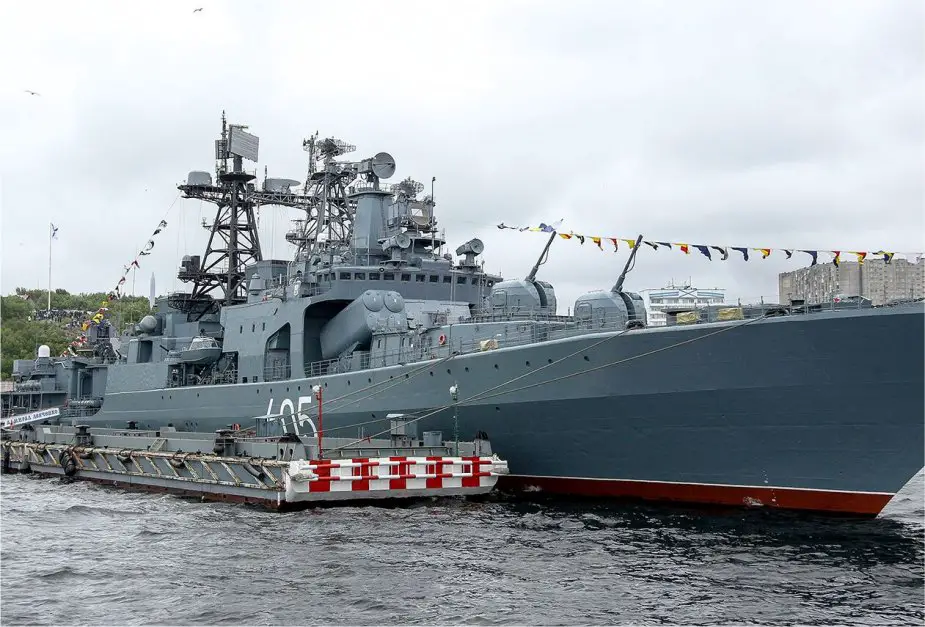 Udaloy class destroyer Admiral Levchenko (Picture source: Lenta)
---
"The Northern Fleet's formation comprises the large antisubmarine warfare ship Admiral Levchenko, the large amphibious assault ship Alexander Otrakovsky, and the large seagoing tanker Sergei Osipov," the press office said.
The voyage directed by Northern Fleet Commander Vice Admiral Oleg Golubev will last several months. During the cruise, the ships will accomplish a number of operational and combat training missions.
Also, a number of military experiments are planned to be conducted and interaction between the crews and coastal troops will be practiced to protect the Arctic islands. The ships are also planned to call at coastal cities and towns of Russia's Extreme North.
About the destroyer Admiral Levchenko
Admiral Levchenko is a Russian destroyer of the Udaloy class. The ship was laid down in 1982 and was commissioned in the Soviet Navy in 1988. After the fall of the Soviet Union, the ship continued to serve in the Russian Navy with the Northern Fleet.
The Udaloy class, Russian designations Project 1155 Fregat and Project 11551 Fregat-M, are a series of anti-submarine guided-missile destroyers built for the Soviet Navy, seven of which are currently in service with the Russian Navy.
The Admiral Levchenko has an overall length of 163 m, a beam of 19.3m, and a draught of 6.2m. The displacement of the ship is 6,200 tons. She can reach a maximum speed of 29 kt and a range of 10,500 nm at 14kt. It has a crew of 300 sailors.
The main air defense weapons are the 3K95 Kinzhal Naval SAM system with 64 missiles. Artillery armament included two 100-mm AK-100 single-shot artillery guns and four 30-mm AK-630M artillery guns.
Anti-submarine warfare weapons included a Metel SAM system with two quadruped fixed launchers, two four-tube 533-mm torpedo launchers, and two RBU-6000.
---