---
According to information published by Chinese TV on August 17, 2022, the Russian corvette Gromkiy arrives in Qingdao, China. It will participate in International Army Games 2022 "Sea Cup" contest.
Follow Navy Recognition on Google News at this link
---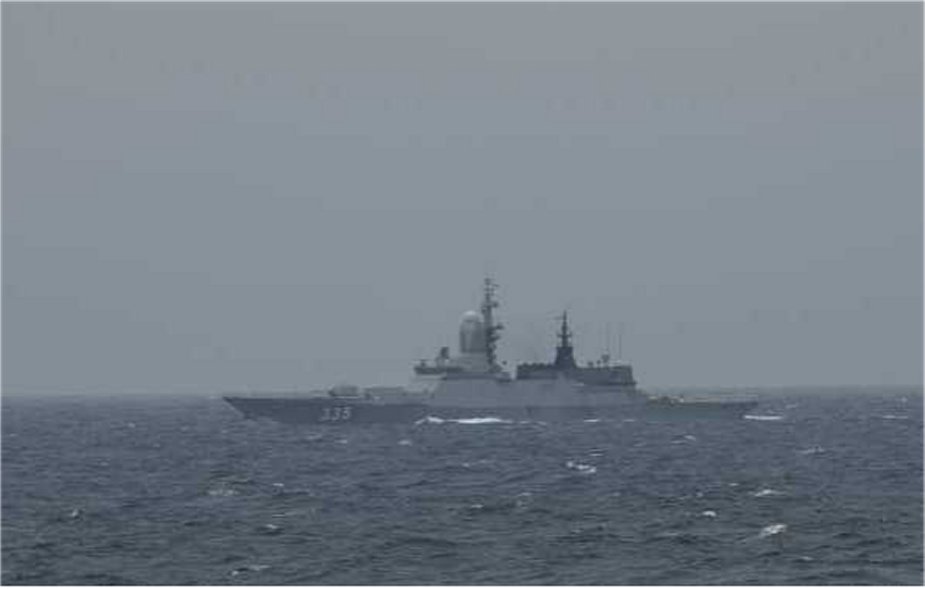 Russian Steregushchiy class Gromkiy in Japanese Tsushima Straits (Picture source: Japanese MoD)
---
Gromkiy is a Steregushchiy-class corvette of the Russian Navy. Gromkiy was laid down on 17 February 2012, and launched on 28 July 2017 by Amur Shipyard in Komsomolsk.
Multipurpose corvettes of project 20380 are close sea zone warships capable of fighting surface warships and submarines and providing fire support to landing operations. The corvettes carry a helicopter.
Stealth technologies are used in construction as well as the latest solutions to decrease the physical field of the warship. In particular, the radar signature was considerably decreased due to low-combustible radar-absorptive fiberglass used in the superstructure, as well as the architecture of the hull and superstructure.
The corvette has a displacement of 1800 tons, a total of 2220 tons. The length is the largest at 104.5 meters, width 13 meters, and maximum draft of 7.95 meters. It has a maximum speed of 27 knots and a cruising range of 4000 miles.
The class is armed with one 100 mm A-190 Arsenal or 130 mm A-192 naval gun, one Kashtan CIWS-M (Close-In Weapon System), eight Kh-35 (SS-N-25) subsonic cruise anti-ship missile, two AK-630М CIWS (Close-In Weapon Systems), eight 330mm torpedo tubes for Paket-NK (Paket-NK/E for export) anti-torpedo/anti-submarine torpedoes and two 14.5mm MTPU pedestal machine guns.
---