---
According to information published by NATO on August 17, 2022, Standing NATO Maritime Group Two (SNMG2) with several ships from the task group arrived in Souda Bay for a scheduled port visit.
Follow Navy Recognition on Google News at this link
---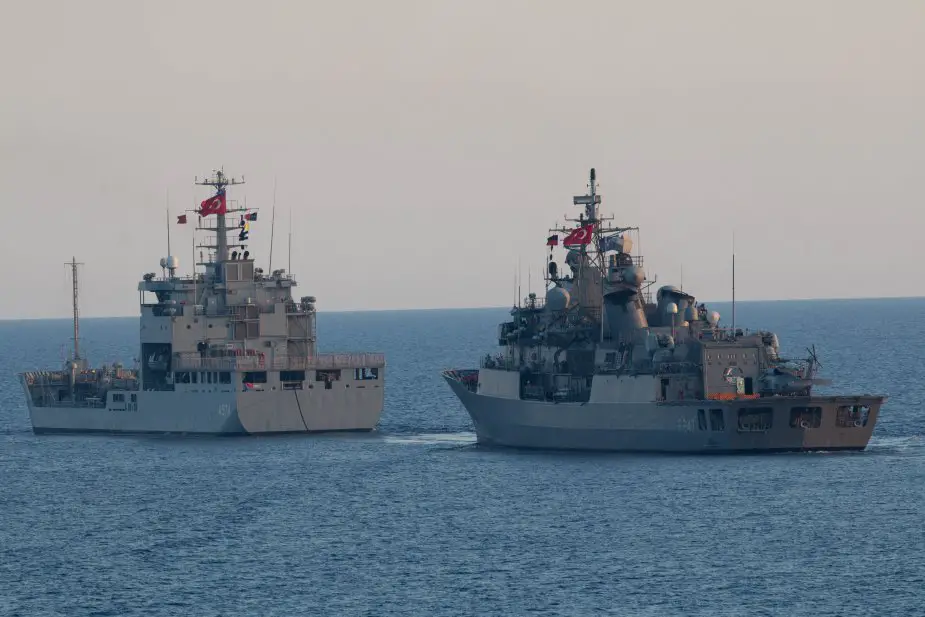 Logistic Support Ship TCG Yüzbaşı Güngör Durmuş and Barbaros class frigate TCG Kemalreis (Picture source: NATO)
---
SNMG2 arrived with its flagship, guided-missile destroyer USS Forrest Sherman (DDG 98); Spanish Navy frigate Almirante Juan de Borbon (F-102); Turkish Navy frigate TCG Kemalreis (F-247); and Hellenic Navy frigate HS Kountouriotis (F462). The port visit for the task group comes after a week and a half spent operating throughout the Adriatic and the Mediterranean Seas.
Together, as members of SNMG2, the task group performed unique and tactical events such as live-fire gunnery exercises, electronic warfare exercises, air defense exercises, and communication exercises.
While operating together provides for increased interoperability and improved communications during dynamic exercises, it also directly supports the purpose and principles outlined in the 2022 NATO Strategic Concept.
NATO Heads of State and Government approved a new Strategic Concept for the Alliance in Madrid on June 29 setting out the Alliance's priorities, core tasks, and approaches for the next decade.
The Strategic Concept describes the security environment facing the Alliance, reaffirms NATO's values, and spells out NATO's key purpose of ensuring our collective defense. It further sets out NATO's three core tasks of deterrence and defense; crisis prevention and management; and cooperative security.
The port visit provides an opportunity for the Group to refuel and resupply. Sailors will also have the opportunity to participate in recreational activities and engage with local communities across the island.
About the frigate TCG Kemalreis
TCG Kemalreis (F-247) is a Barbaros-class frigate of the Turkish Navy. Kemalreis was launched on 22 July 1998 by Gölcük Naval Shipyard in Kocaeli and commissioned on 8 June 2000.
The Barbaros-class frigates are among the most modern frigates in the Turkish Navy. They were designed in Germany and are part of the MEKO group of modular warships, in this case the MEKO 200 design.
Two ships were built in Germany and two in Turkey with German assistance. They are larger than the previous Yavuz-class frigates and are also faster due to using CODOG machinery rather than pure diesels.
---