---
According to information published by the Mindef of Singapore on August 16, 2022, the Republic of Singapore Navy (RSN) and the Indonesian Navy (TNI AL) concluded Joint Minex Pandu.
Follow Navy Recognition on Google News at this link
---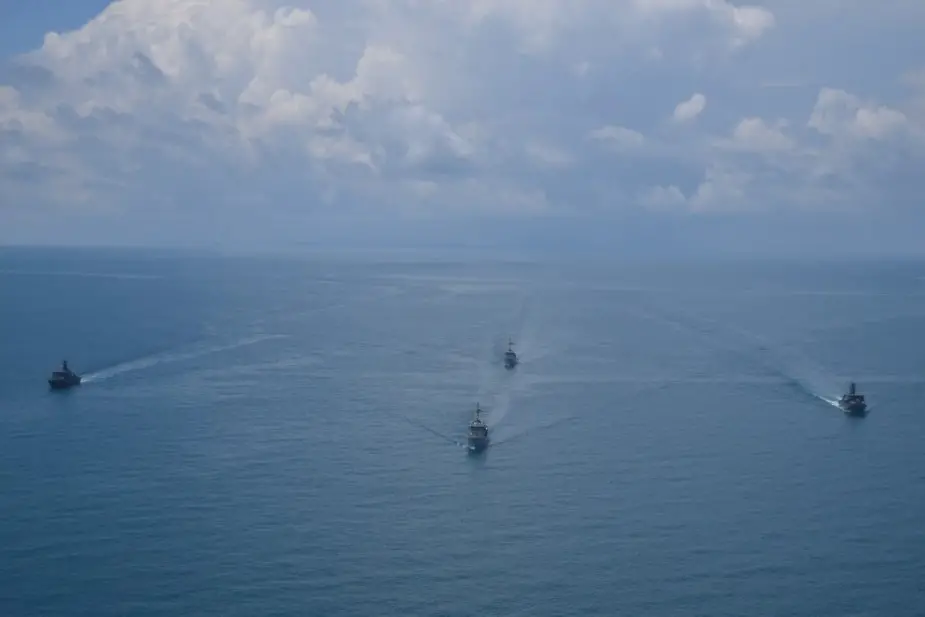 Singapore Mine-countermeasure Vessels RSS Punggol and RSS Bedok (left and right) and the Indonesian MCMVs KRI Pulau Rupat and Pulau Rengat (centre front and back) participating in the Joint Minex Pandu. (Picture source: Mindef of Singapore)
---
Held in Singapore, Batam and the waters off Bintan from 11 to 16 August 2022, the bilateral mine-countermeasure (MCM) and clearance diving exercise enhanced the two navies' ability to counter underwater threats together.
This year's exercise saw the participation of more than 230 personnel from the RSN and the TNI AL. The RSN participated in the exercise with two Bedok-class Mine Countermeasure Vessels (MCMVs), RSS Bedok and RSS Punggol, and personnel from the Naval Diving Unit, while the TNI AL participated with two Pulau Rengat-class MCMVs, KRI Pulau Rengat and KRI Pulau Rupat, and a dive team.
The exercise comprised table-top planning exercises, professional exchanges on mine-hunting and clearance diving techniques, joint MCM operations against simulated mine threats, diving and boarding operations, and live gunnery firing.
The RSN and TNI AL conduct regular professional exchanges, exercises and visits, and also collaborate through the multilateral Malacca Straits Patrol. The RSN's other bilateral exercise with the TNI AL, Exercise Eagle Indopura, is the Singapore Armed Forces' longest-running bilateral exercise with a foreign military. These activities underscore the close and long-standing defence relationship between Singapore and Indonesia.
About the Bedok-class mine countermeasures vessel
The Bedok class are mine countermeasures vessels (MCMVs) of the Republic of Singapore Navy (RSN). They play an important role in the maritime security of Singapore, ensuring that the Singapore Strait and the sea lanes surrounding Singapore remain mine-free and open to international shipping.
The ship's design incorporates a number of features important for mine countermeasures – low acoustic and magnetic signatures, as well as shock resistance to underwater explosions.
The Bedok class is made of glass-reinforced plastic, designed by the Swedish Navy and Kockums (then known as Karlskronavarvet). Its low magnetic and acoustic signatures reduces the possibility of setting off mines.
It is highly durable, fire- and shock-resistant, easy to repair and is maintained only by painting. The ship's bridge, major combat equipment and engines are also shock-mounted to cushion against underwater explosions.
Each Bedok-class MCMV is powered by two independent vertical Voith Schneider Propellers, designed specifically to ensure excellent manoeuvrability and low noise signature. Each ship operates the ECA K-STER expendable mine disposal system from France, for the identification and destruction of mines.
---