---
According to a PR published by Babcock International Group on August 17, 2022, the defence company, has started a post-life extension (LIFEX) on the Royal Navy's Type 23 frigate HMS Argyll at their Devonport facility.
Follow Navy Recognition on Google News at this link
---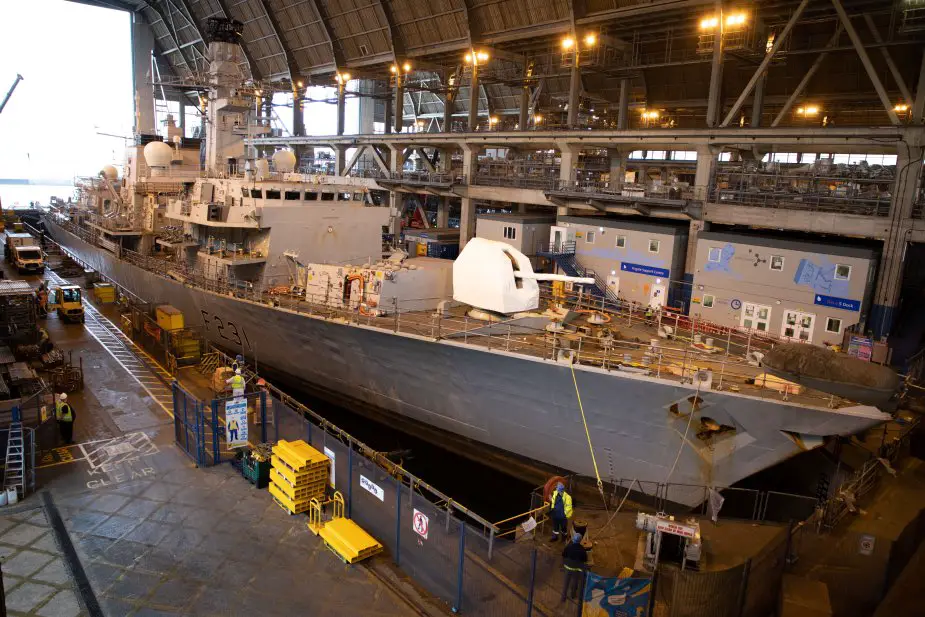 Royal Navy's Type 23 frigate HMS Argyll, Devonport. (Picture source: Babcock)
---
It is the first Type 23 to undergo a post-LIFEX upkeep, adopting a new innovative approach to re-certification at the facility's Frigate Support Centre (FSC).
Babcock will overhaul equipment and carry out design changes for new capabilities such as communications upgrades and mixed crewing. The Duke Class frigate will also receive a full spray coat of paint the outer bottom and ship side.
Work began immediately with the vessel being prepared for a Lloyds structural survey to achieve an early full ship assessment in just nine weeks.
Commissioned in 1991, HMS Argyll is the longest-serving Type 23 frigate and was the first to undergo upkeep within the LIFEX programme in 2015. After she returned to the Royal Navy in 2017 Babcock has continued to deliver the Type 23 life-extension programme across the fleet.
Babcock's recent milestones on the programme include HMS Somerset achieving ready for sea date and commencing sea trials earlier this year, HMS Iron Duke recently undocking and HMS St Albans preparing to flood up later this month.
About the Type 23 frigate
The Type 23 frigate or Duke class is a class of frigates built for the United Kingdom's Royal Navy. They were designed for anti-submarine warfare, but have been used for a range of uses.
Type 23 had evolved into a more complex and balanced vessel optimised for general warfare, which introduced a host of new technologies and concepts to the Royal Navy.
These included extensive radar cross-section reduction design measures, automation to substantially reduce crew size, a combined diesel-electric and gas (CODLAG) propulsion system providing very quiet running for anti-submarine operations and a large range.
---