---
According to information published by Tass on August 16, 2022, the Project 20380 corvette Merkuriy (Mercury) will be ready for its delivery to the Russian Navy by October this year.
Follow Navy Recognition on Google News at this link
---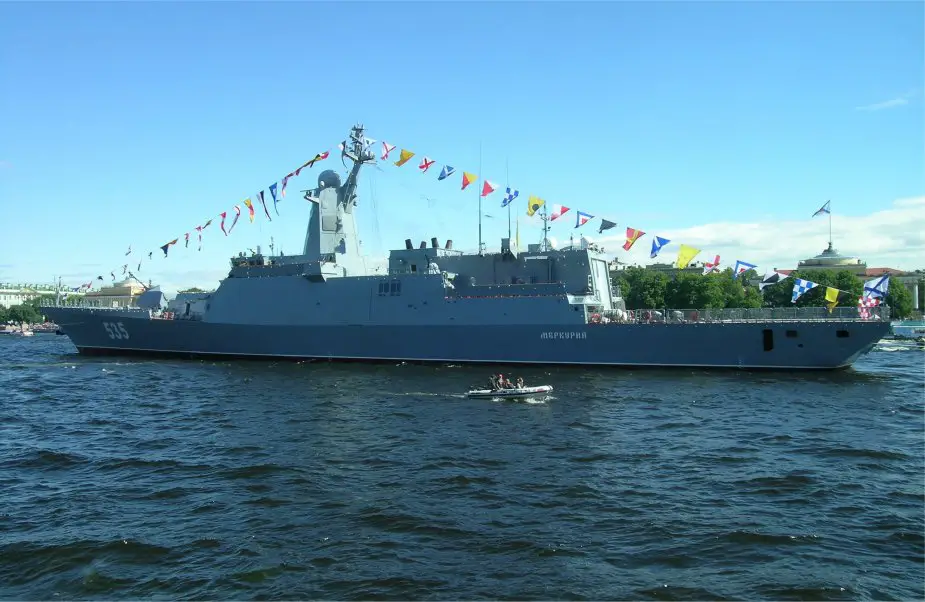 Russian Project 20380 corvette Merkuriy (Picture source: 123456A)
---
The Merkuriy is the fifth Project 20380 corvette built at the Severnaya Verf Shipyard (part of Russia's United Shipbuilding Corporation (USC)). It is armed with the Uran missile system of two four container-type launchers with an ammunition load of eight Kh-35U missiles with a firing range of 260 km (161 mi).
Multipurpose corvettes of project 20380 are close sea zone warships capable of fighting surface warships and submarines and providing fire support to landing operations. The corvettes carry a helicopter.
Stealth technologies are used in construction as well as the latest solutions to decrease the physical field of the warship. In particular, the radar signature was considerably decreased due to low-combustible radar-absorptive fiberglass used in the superstructure, as well as the architecture of the hull and superstructure.
The ship has a displacement of 1800 tons, a total of 2220 tons. The length is the largest at 104.5 meters, width 13 meters, and maximum draft of 7.95 meters. It has a maximum speed of 27 knots and a cruising range of 4000 miles.
The corvette designated as Retivy was laid down on February 20, 2015. On October 15, 2021, a decision was made to rename the corvette into Merkuriy.
The Army 2022 international military-technical forum is running on August 15-21 at the Patriot exhibition center outside Moscow. The Defense Ministry is the organizer of the forum.
---