---
According to information published by Tass on August 23, 2022, the delivery of the heavy aircraft carrier Admiral Kuznetsov and the heavy nuclear-powered missile cruiser Admiral Nakhimov, which are currently under repair, to the Russian Navy may be postponed to 2024.
Follow Navy Recognition on Google News at this link
---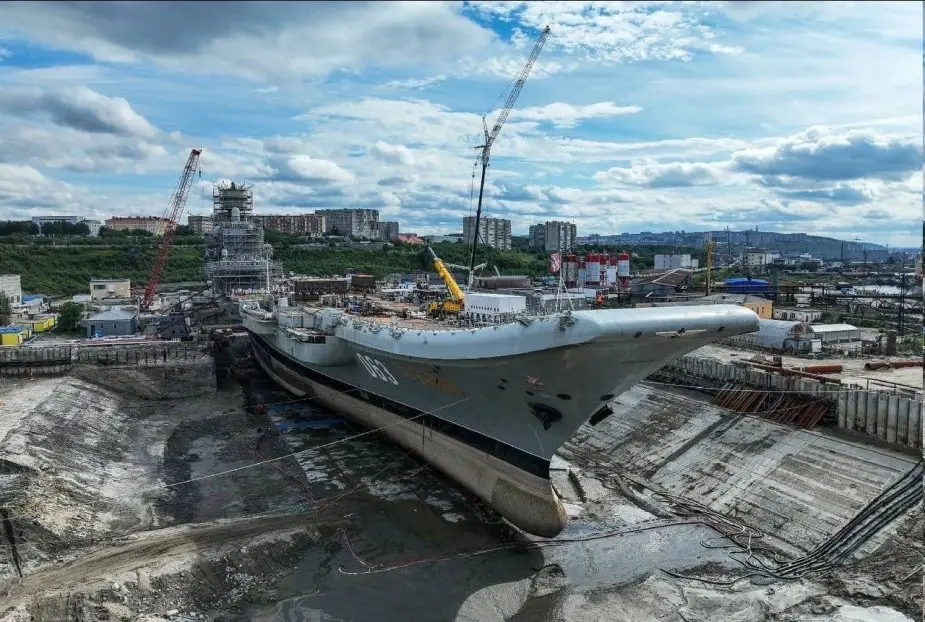 Russian aircraft carrier Admiral Kuznetsov (Picture source: Военный Осведомитель)
---
Admiral Kuznetsov is being repaired by the Zvyozdochka Shipyard, Admiral Nakhimov is undergoing repair and upgrade at the Sevmash Shipyard (both enterprises are USC subsidiaries).
Earlier, Korolyov told TASS that in accordance with the upgrade plan, all obsolete systems on board Admiral Nakhimov would be replaced with modern weapons and military equipment.
According to him, the procedure and the dates of the forthcoming tests have been determined by the general schedule. The ship will go to sea for trials for the first time after its mooring tests are completed.
The Army 2022 international military-technical forum took place on August 15-21 at the Patriot exhibition center outside Moscow. The event was organized by the Russian Defense Ministry.
About the aircraft carrier Admiral Kuznetsov
Admiral Nakhimov is the third battlecruiser of the Russian Navy's Kirov class. The ship was originally commissioned into service with the Soviet Navy in the 1980s, known back then as Kalinin (Калинин), a name the ship kept until 1992.
From 1997 Admiral Nakhimov is undergoing a repair and a refit to receive new and improved weaponry and had been scheduled to re-enter service with the Russian Navy in around 2022.
Kalinin was constructed differently from the lead ship of the class. On the forward part of the ship, the twin SS-N-14 ASW missile launcher was replaced with eight SA-N-9 surface-to-air missile vertical launchers (not installed).
The forward 30 mm CIWS cannons were replaced by CADS-N-1. On the aft part, a single twin AK-130 130 mm gun, similar to the guns used on Slava and Sovremennyy, was used instead of two 100 mm guns.
Near the flight deck, the 30 mm CIWS cannons were replaced by Kashtan CIWS and moved to the aft superstructure and replaced with eight SA-N-9 vertical launchers (not installed).
---