---
According to information published by NATO on August 24, 2022, Standing NATO Maritime Group Two (SNMG2) concluded a port visit in Alexandria, Egypt, by conducting a passing exercise (PASSEX) with the Egyptian Navy.
Follow Navy Recognition on Google News at this link
---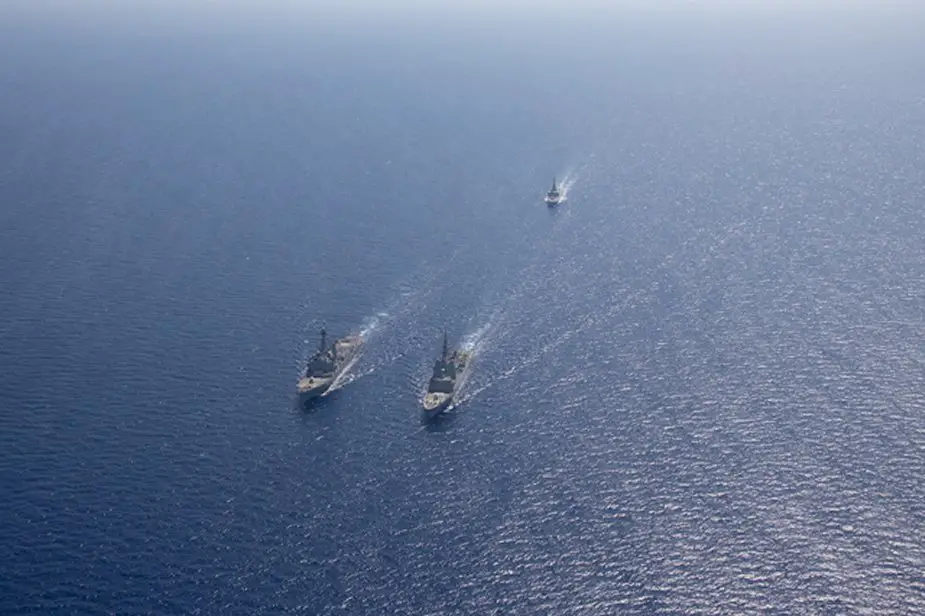 USS Forrest Sherman, flagship of SNMG2, recently conducted a PASSEX in the Med with Spanish ship ESPS Almirante Juan de Borbón and Egyptian ship ENS El Fateh. (Picture source: US Navy)
---
A PASSEX is a cooperative exercise that demonstrates interoperability, collaboration, coordination, and partnership with partner and allied navies. These exercises often involve communication, advanced maneuvering, and tactics tests.
Before conducting the PASSEX, SNMG2 arrived in Alexandria for a scheduled port visit with flagship U.S. Navy destroyer USS Forrest Sherman and Spanish Navy frigate ESPS Almirante Juan de Borbon (F-102) on Aug. 21.
While in Alexandria, Rear Adm. Scott Sciretta, commander, SNMG2, met with Alexandria Naval Base Commander, Egyptian Navy Adm. Walid Aly Attia, as well as the commanding officer of Gowind-class corvette ENS El Fateh (971), Cmdr. Ibrahim Sobeih.
The staff of SNMG2 and ESPS Almirante Juan de Borbon provided NATO capabilities briefings to students at the Egyptian Naval War College, where they presented various NATO operational concepts, to include task group command and control, rules of engagement, mine countermeasure operations, and maritime interdiction.
After departing Alexandria on Aug. 24, SNMG2 and the Egyptian Navy commenced the PASSEX. The ships participating in the PASSEX included USS Forest Sherman, ESPS Almirante Juan de Borbón, and ENS El Fateh.
About the Egyptian corvette ENS El Fateh
The Gowind design is a family of steel monohull frigates, corvettes, and offshore patrol vessels developed since 2006 by France's Naval Group, formerly known as DCNS, to conduct missions in the littoral zone such as anti-submarine warfare (ASW).
The Gowind family includes vessels with lengths from 85 to 111 meters (278 ft 10 in to 364 ft 2 in) and displacement from 1,000 tons to 3,100 tons.
The Gowind design can deploy unmanned aerial vehicles (UAVs), unmanned surface vehicles (USVs), and underwater unmanned vehicles (UUVs). An aft deck has been provided allowing for a 10-ton class helicopter or UAV operations.
The platform's weapon system consists of a multi-functional radar and VL MICA surface-to-air missiles (SAM). It is armed with Exocet anti-ship missiles. The propulsion system is based on Combined Diesel and Diesel (CODAD) and includes water-jets for improved maneuverability in shallow waters and high-speed performance. There is no funnel on these ships. The radar and other sensors are mounted on a single central mast thus allowing 360-degree view.
---