---
According to a tweet published by SCS Probing Initiative on January 10, 2021, the U.S. Navy aircraft carrier USS Carl Vinson was spotted near Balabac Strait in the South China Sea.
Follow Navy Recognition on Google News at this link
---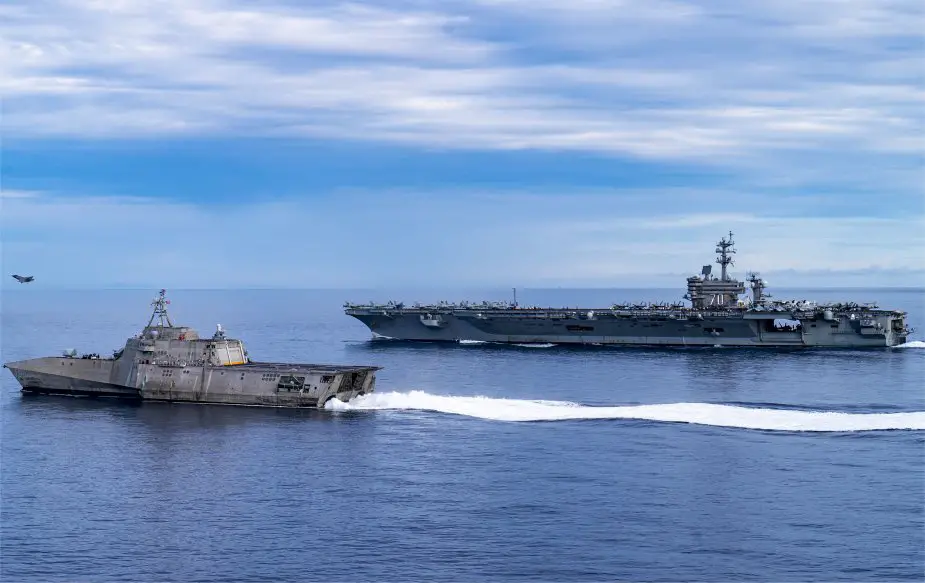 The aircraft carrier USS Carl Vinson (CVN 70) with USS Tulsa (Picture source: U.S. Navy)
---
USS Carl Vinson (CVN-70) is the United States Navy's third Nimitz-class supercarrier. She is named for Carl Vinson, a Congressman from Georgia, in recognition of his contributions to the U.S. Navy.
The ship was launched in 1980, undertook her maiden voyage in 1983, and underwent refueling and overhaul between 2005 and 2009.
The USS Carl Vinson has a displacement of 101,300 tons when fully loaded. She has a length of 332.8 m and a beam of 76.8 m. She can reach a maximum speed of over 30 knots (56 km/h) and can accommodate 3,532 military personnel.
The Nimitz-class carriers have a length of 1,092 ft (333 m) overall, 1,040 ft (317 m) at the waterline, and a beam of 134 ft (41 m). They have a full-load displacement of 101,196 long tons (102,820 t). The ship's complement is 558 officers and 5,454 enlisted (including airwing).
The Balabac Strait is one of the straits that connect the South China Sea with the Sulu Sea. It separates Balabac Island (Palawan province), Philippines, from Balambangan and the Banggi Islands north of Borneo that are a part of Malaysia's Sabah state.
---