---
According to a tweet published by Louis Cheung on January 13, 2021, a design of the future DDG(X) destroyer was presented at the Surface Navy Association (SNA) 2022.
Follow Navy Recognition on Google News at this link
---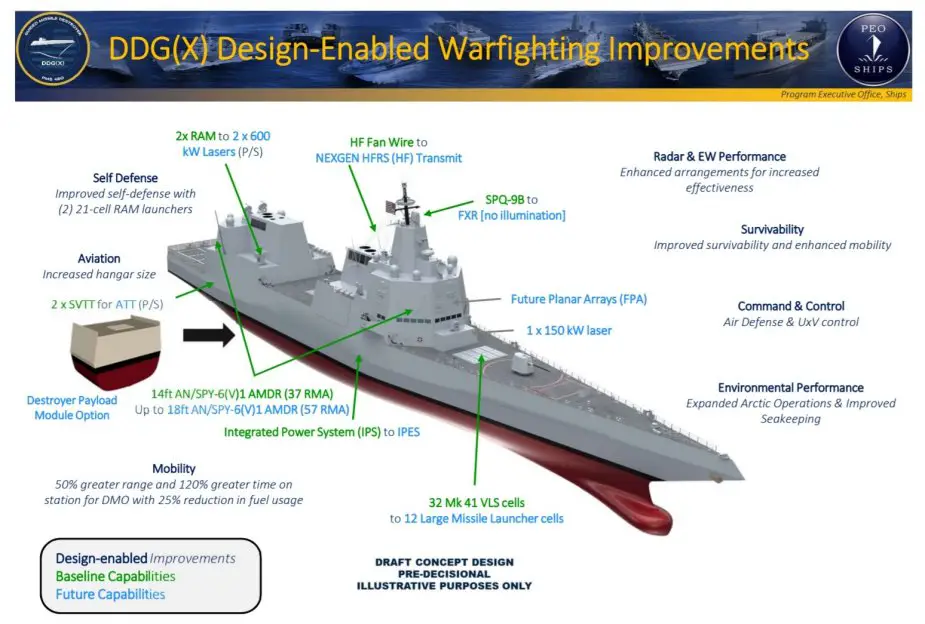 DDG(X) destroyer design (Picture source: louischeung_hk)
---
The DDG(X) program, also known as the Next-Generation Guided-Missile Destroyer program, is a United States Navy program to develop a replacement vessel for its 22 Ticonderoga-class cruisers and older Flights of the Arleigh Burke-class destroyer.
The DDG(X) will use integrated electric propulsion (IEP) as employed on the Zumwalt-class, with 50% greater range, 120% greater time on station, and 25% reduction in fuel burn compared to current U.S. Navy destroyers.
The sensors will initially be enlarged variants of the AN/SPY-6 radar mounted on the Flight III Arleigh Burke-class destroyers. The hull is designed with provisions for upgraded sensors in the future, including larger radar arrays.
The vessels will be initially fitted with 32-cell blocks of the Mk. 41 VLS. In lieu of the Mk. 41, the ships can also accept a 12-cell block of larger launchers for hypersonic missiles. Upgraded versions of the class may also incorporate directed energy weapons, with lasers ranging from 150—600 kW.
---