---
According to information published by the U.S. DoD on July 7, 2022, the Sentinel-class fast response cutters USCGC Clarence Sutphin Jr. (WPC 1147) and USCGC John Scheuerman (WPC 1146) arrived in Algiers, Algeria for a scheduled port visit.
Follow Navy Recognition on Google News at this link
---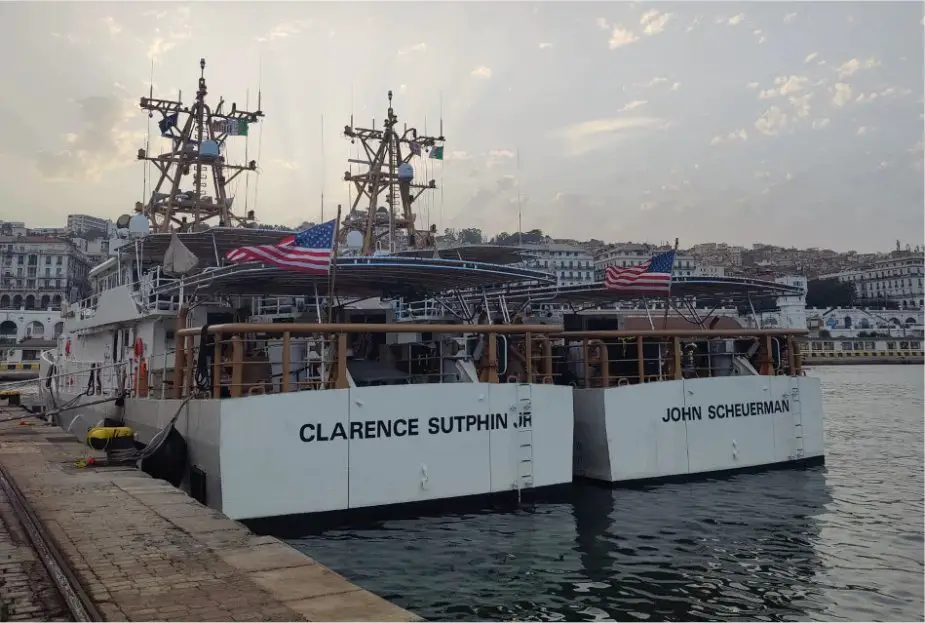 Sentinel-class cutters Clarence Sutphin and John Scheuerman (Picture source: U.S. DoD)
---
During the visit, Rear Adm. Chase Patrick, director of maritime engagement, U.S. Naval Forces Europe-Africa (NAVEUR-NAVAF), will meet with Algerian government and military leaders to discuss shared goals of maritime security and regional stability in the Mediterranean Sea region.
Last month, Algeria participated in the NAVAF-led North African exercise Phoenix Express 2022. Participating nations exchanged information-sharing practices, enhancing efforts to promote safety and security in the Mediterranean Sea and territorial waters of participating North African nations.
This port visit also marks the first stop in Africa for Clarence Sutphin Jr. and John Scheuerman since their commissioning earlier this year. The two cutters are forward-deployed to the U.S. Naval Forces Europe and Africa area of operations and assigned to U.S. Coast Guard Patrol Forces Southwest Asia, while employed by U.S. Sixth Fleet.
About Sentinel-class Fast Response Cutters
The Sentinel-class cutter, also known as Fast Response Cutter due to its program name, is part of the United States Coast Guard's Deepwater program.
She is equipped with a stern launching ramp, that allows her to launch or retrieve a water-jet propelled high-speed auxiliary boat, without first coming to a stop.
Her high-speed boat has over-the-horizon capability and is useful for inspecting other vessels and deploying boarding parties. She is designed to support her crew of 24 for missions of up to five days, over distances of almost 3,000 nautical miles (5,556 km; 3,452 mi).
The vessels are armed with a remote-control 25 mm Bushmaster autocannon and four crew-served .50-caliber (12.7 mm) M2HB heavy machine guns. They have a bow thruster for maneuvering in crowded anchorages and channels. They also have small underwater fins, for coping with the rolling and pitching caused by large waves. The vessels are manned by a crew of 22.
---