---
According to information published by the Brazilian MoD on July 27, 2022, the Roraima class patrol vessels Raposo Tavares and Rondonia, as well as the Oswaldo Cruz class River hospital ship Oswaldo Cruz and the UH-12 aircraft, began the Naval Operation BraColPer 2022, composing the Task Group (GT) of the Amazonas Flotilla.
Follow Navy Recognition on Google News at this link
---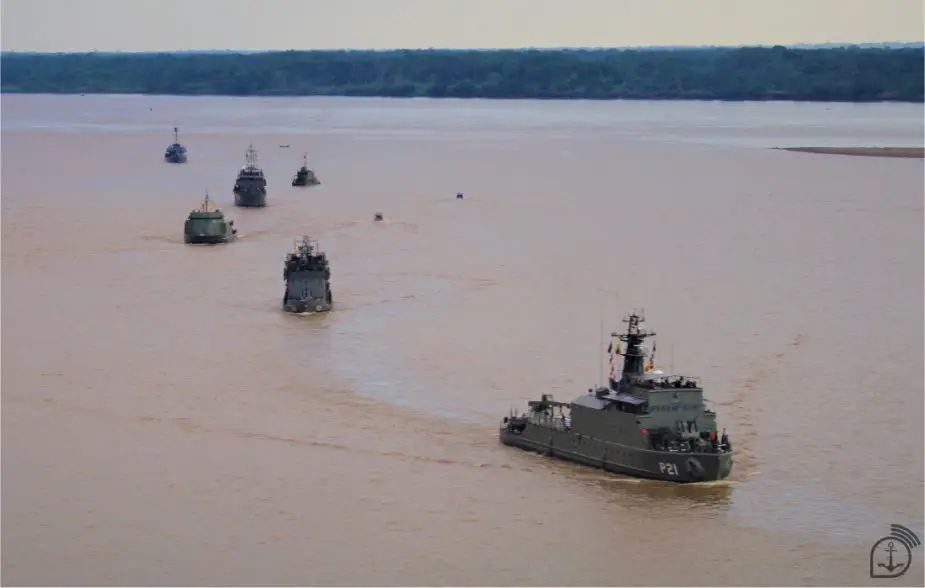 Brazilian Roraima class patrol vessel Raposo Tavares (Picture source: Brazilian MoD)
---
Operation BraColPer has brought together the capabilities of the Navies of Brazil (MB), Colombia, and Peru since 1974, with the objective of carrying out exercises through an exchange of knowledge in the Tri-Border area, improving the level of training and thus allowing the effectiveness of the combined operations of the naval units of the participating countries.
The Operation is divided into three phases and involves more than 400 military personnel. Phases I and II take place on the Marañon River, the Peruvian Solimoes River, between the cities of Leticia (Colombia) and Iquitos (Peru), during the periods that coincide with the Independence dates of these countries, celebrated on July 20 and 28, respectively.
At the end of these phases, the ships that make up the GT return to their headquarters. As in previous years, phase III, held in the state of Amazonas, will take place on the Solimões and Negro Rivers, in September, precisely on the occasion of the celebration of 200 years of Brazil's Independence.
Colombia's Independence Celebrations
On July 20, 2022, in the city of Leticia, Colombia, the 212th anniversary of Colombia's Independence was celebrated with the presence of Brazilian civil and military authorities.
Among the protocol events, the celebration of a mass in the Cathedral of Leticia, and the civic parade allusive to the 212th anniversary of Colombia's Independence, where military personnel from the Brazilian Navy and Army also paraded through the city streets, were highlighted.
On the occasion, there was a demonstration of Colombian military personnel, means, and operational equipment, as well as a floral display in front of the bust of Admiral Padilla, a Colombian hero who played a decisive role in the Independence of Colombia.
On the Marañon River, the River patrol vessels "Raposo Tavares" and "Rondônia", and the Hospital Assistance Ship "Oswaldo Cruz", of the Brazilian Navy, accompanied by the Ships "ARC Rey", "ARC Leticia", "ARC Joyss" of the Colombian Navy and the ship "BAP Clavero" of the Peruvian Navy, held a Naval Parade, ending the commemorations of the Independence Day.
About the Roraima class
The Roraima Class is a class of River patrol vessels (NPaFlu in Portuguese) of the Brazilian Navy built at MacLaren Estaleiros e Serviços Marítimos, in Niterói Rio de Janeiro, according to a national design and incorporated between the end of 1975 and the beginning of 1976.
These ships are part of the Amazonas Flotilla, subordinated to the 9th Naval District in Manaus.
It operates two fast action boats (LAR), with a capacity for up to 15 men, and is armed with two 7.62 mm machine guns. Therefore, it also serves as a means of action for the marines of the Battalion of Riverine Operations.
---