---
According to information published by Socarenam on July 27, 2022, the future French Navy's POM Offshore Patrol Vessel Auguste Benebig has begun its first sea trials.
Follow Navy Recognition on Google News at this link
---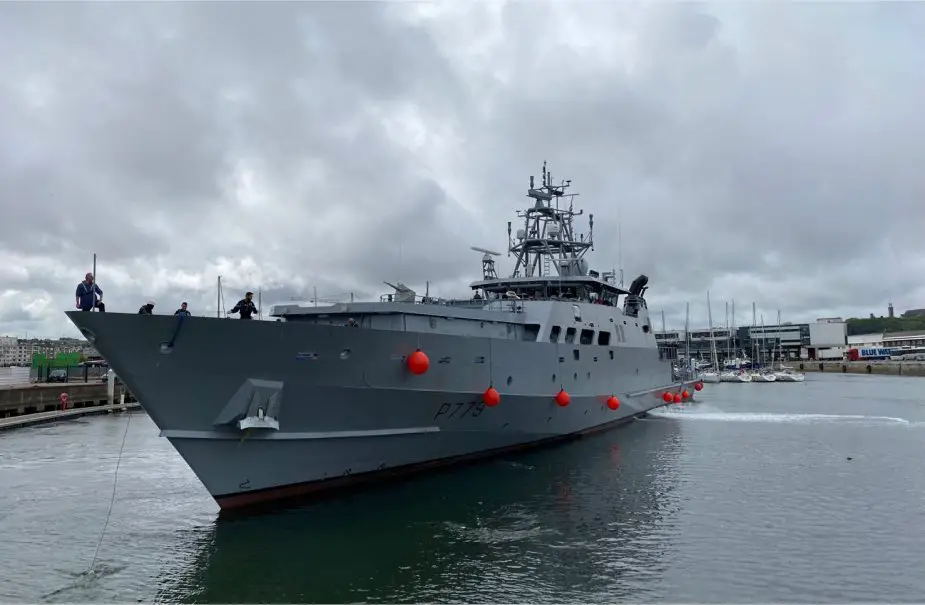 POM Offshore Patrol Vessel Auguste Benebig, Boulogne sur Mer. (Picture source: Socarenam)
---
The Patrouilleurs Outre-mer (POM - overseas patrol boats), are a class of six offshore patrol boats of the French Navy. They will be based in Noumea, Tahiti and Reunion, where they will replace the L'Audacieuse / P400 class patrol boats which have reached the end of their life, but with a much larger size of 1,300 tonnes at full load and extended capacities. They will be delivered from September 2022 until 2025.
The first steel-cutting took place on October 8, 2020, during a visit to the Socarenam site in Saint-Malo by the Minister for the Armed Forces, Florence Parly.
After its launch on October 15, 2021, the first vessel was taken in tow on October 16, 2020 to Boulogne-sur-Mer where it arrived on October 18 for fitting out. It should join the Brest naval base for trials and qualification around May 2022.
The vessels have a displacement of 1,300 tons when fully loaded. They are 80 m long and 11.8 m wide, with a draft of 3.5 m. Armed by a crew of thirty sailors, they will be able to accommodate twenty-nine additional passengers and provide support for divers.
They will have to evolve in areas of high heat and high humidity, for missions without refueling lasting around thirty days, with an autonomous handling capacity for lifting equipment. They will have two rapid intervention craft, approximately 8 m long, and an Airbus Aliaca UAS (Unmanned Aerial Systems) drone.
The combat system is the Lyncea from the French company Nexeya, installed in 2009 on the Floréal class frigates and the Estienne d'Orves class patrol boats. Surveillance radar systems are provided by Hensoldt.
The armament consists of a Nexter Narwhal-20 teleoperated cannon, placed at the front, and four mountings intended to accommodate 12.7 mm and 7.62 mm machine guns.
Six patrol boats are planned for the French Navy. The first unit, to be delivered in 2022, will be based in Noumea in New Caledonia, followed by another in 2024. Two units will be based in Reunion, and two others in Tahiti.
---