---
According to information published by Tass on June 10, 2022, the Yevgeny Kocheshkov and the Mordovia small air-cushioned amphibious assault ships of the Baltic fleet held a tactical exercise to land a marine assault on the unequipped coast in the Kaliningrad region and trained artillery fire.
Follow Navy Recognition on Google News at this link
---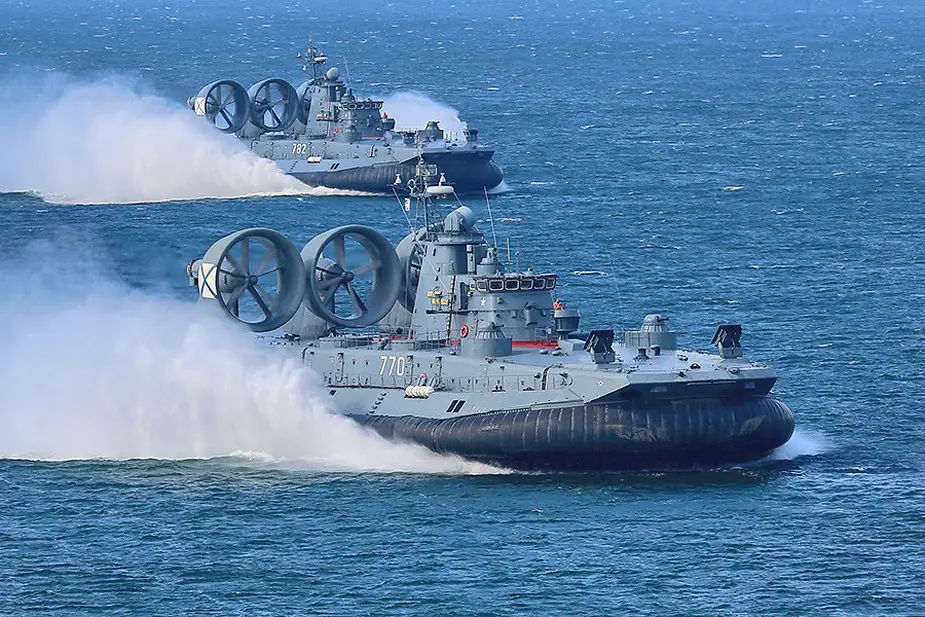 Zubr-class LCAC Mordovia and Yevgeny Kocheskov (Picture source: Russian MoD)
---
The marines engaged Gvozdika self-propelled guns and BTR-82A APC to break through the hostile defense.
The warships trained artillery fire at air targets from 30 mm AK-630 guns. They fired at flares launched by Acacia 2S-1 self-propelled gun from Taran Cape in the Kaliningrad region.
The warships also trained survivability and nuclear, biological, and chemical protection. They also laid mines against submarines.
The Mordovia and the Yevgeny Kocheshkov Zubr-class warships of project 12322 are the biggest air-cushioned landing ships in the world. They deliver assault to equipped and unequipped coast and provide fire support.
Over 20 Baltic fleet warships are holding drills in response to NATO Baltops naval maneuvers in the Baltic Sea held on June 5-16. They engage 14 NATO countries, 44 warships, and a hundred aircraft.
About Zubr-class LCAC
The Zubr class, Soviet designation Project 1232.2, is a class of Soviet-designed air-cushioned landing craft (LCAC). The name "Żubr" is Polish for the European bison. This class of military hovercraft is, as of 2012, the world's largest, with a standard full load displacement of 555 tons.
The Zubr-class landing craft has a cargo area of 400 square meters (4,300 sq ft) and a fuel capacity of 56 tons.[1] It can carry three main battle tanks (up to 150 tonnes), or ten armored vehicles with 140 troops (up to 131 tonnes), or 8 armored personnel carriers of total mass up to 115 tonnes, or 8 amphibious tanks or up to 500 troops (with 360 troops in the cargo compartment).
At full displacement, the ship is capable of negotiating up to 5-degree gradients on non-equipped shores and 1.6 m (5 ft 3 in)-high vertical walls. The Zubr class remains seaworthy in conditions up to Sea State 4. The vessel has a cruising speed of 30–40 knots (56–74 km/h; 35–46 mph).
---