---
According to a tweet published by Louis Cheung on June 19, 2022, the People's Liberation Army Navy's Type 055 destroyer Xianyang will soon be commissioned.
Follow Navy Recognition on Google News at this link
---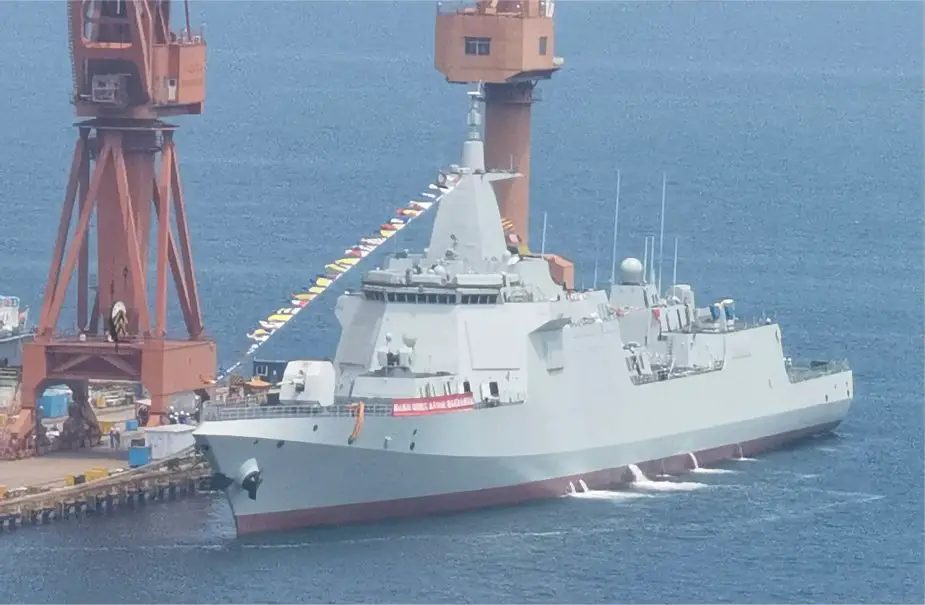 Chinese Type 055 destroyer Xianyang (Picture source: Louis Cheung)
---
The Type 055 destroyer (NATO/OSD Renhai-class cruiser) is a class of stealth guided missile destroyers (guided-missile cruisers per NATO/OSD standard) being constructed for the Chinese People's Liberation Army Navy.
It is a multi-mission design; the combination of sensors and weapons suggests the main role of area air defense, with anti-submarine warfare capabilities surpassing previous Chinese surface combatants.
The ship has a length of 180 m (590 ft 7 in), a beam of 20 m (65 ft 7 in), and a draught of 6.6 m (21 ft 8 in). She can reach a top speed of 30 knots (56 km/h; 35 mph).
Propulsive power is generated by four 28 MW QC-280 gas turbines in combined gas and gas arrangement. Additional power may be provided by six 5 MW QD-50 gas turbines. The maximum speed is estimated to be 30 knots.
The primary armament is missiles carried in 112-cell vertical launching system (VLS); 64 cells forward and 48 cells aft. Type 055 is expected to carry HHQ-9 surface-to-air missiles, YJ-18 anti-ship cruise missiles, CJ-10 land-attack cruise missiles, and missile-launched anti-submarine torpedoes upon entering service.
---