---
According to a VK post published by Военный Осведомитель on March 2, 2022, the Ukrainian Project 11351 Nerey (Krivak III) frigate Hetman Sahaidachny was reportedly scuttled.
Follow Navy Recognition on Google News at this link
---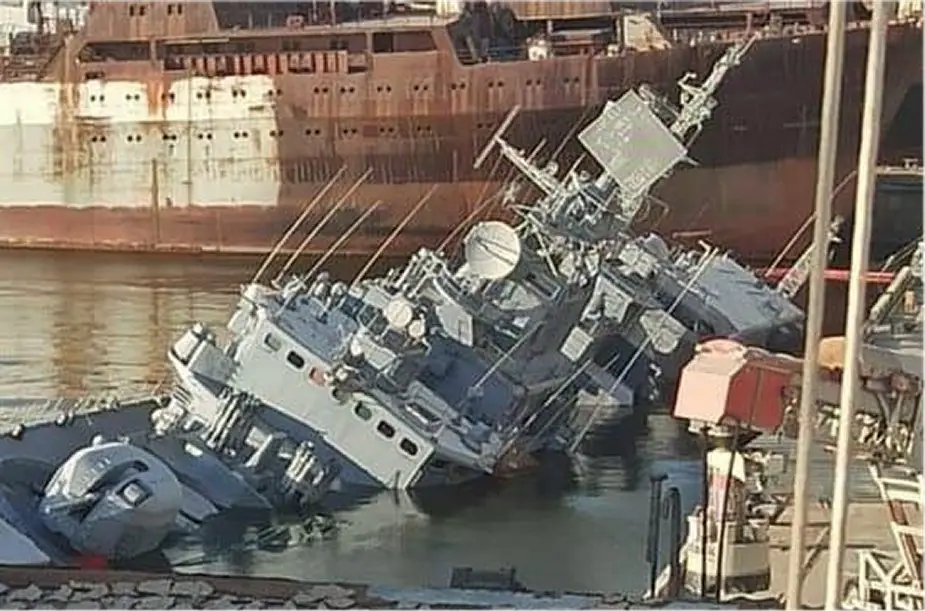 Project 11351 Nerey frigate Hetman Sahaidachny(Picture source: Военный Осведомитель)
---
Hetman Sahaidachny was a frigate of the Ukrainian Navy that was originally built at the Kerch Shipyard as a Project 1135.1 patrol ship of Nerei / Krivak III / Menzhinskiy class. It was launched on 29 March 1992 and commissioned on 2 April 1993. Homeported at Odessa since March 2014, it was the flagship of the Ukrainian Navy.
The Krivak class, Soviet designation Project 1135 Burevestnik, were a series of frigates and guard ships (patrol boats) built in the Soviet Union primarily for the Soviet Navy since 1970.
Project 11351 Nerey (Krivak III) lacked the SS-N-14 missile system, which was replaced by a helicopter and hangar, and only one 100 mm gun at the bow of the ship. All ships were built in Kerch and were intended for the Soviet Border Troops under the KGB.
The frigate is armed with two RBU-6000 anti-submarine rocket launchers that can be used for shore bombardment.
---