---
According to a tweet published by Naval News on May 24, 2022, the Royal Thai Navy reportedly received Boeing Insitu RQ-21 Blackjack Unmanned Air Vehicle from the United States.
Follow Navy Recognition on Google News at this link
---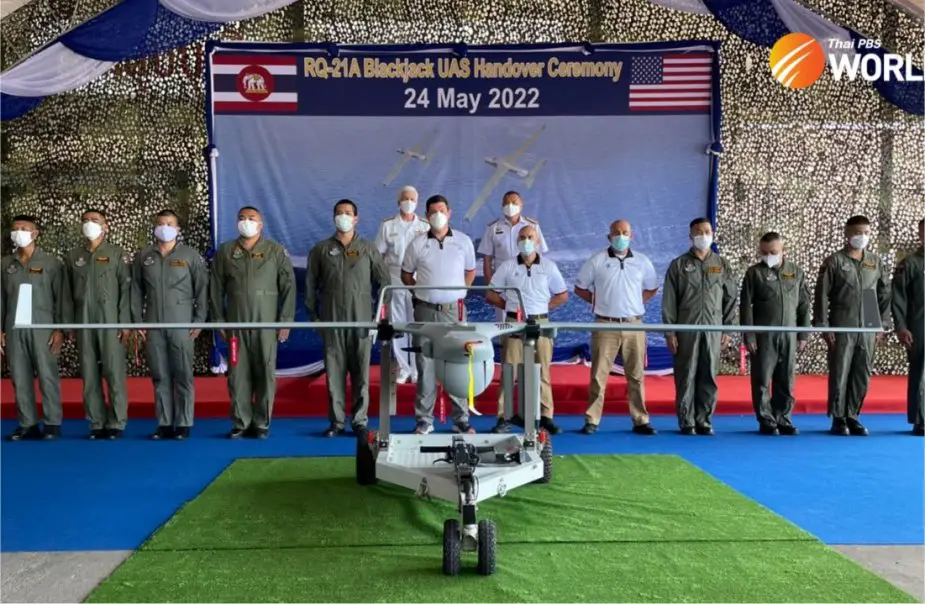 RQ-21 Blackjack Unmanned Air System (Picture source: Thai PBS World)
---
The Boeing Insitu RQ-21 Blackjack, formerly called the Integrator, is an American unmanned air vehicle designed and built by Boeing Insitu to meet a United States Navy requirement for a small tactical unmanned air system (STUAS).
It is a twin-boom, single-engine monoplane, designed as a supplement to the Boeing Scan Eagle. The Integrator weighs 61 kg (134 lb) and uses the same launcher and recovery system as the Scan Eagle.
The RQ-21A Blackjack is designed to support the U.S. Marine Corps by providing forward reconnaissance. A Blackjack system is composed of five air vehicles and two ground control systems.
The air vehicles can be launched on land or on a ship by a rail and land using a "skyhook" recovery system, where a vertical wire must be hooked onto its wing; when on the ground, the launch and recovery systems are towable by vehicles.
Its wingspan is 16 ft (4.9 m) and it can carry a 39 lb (18 kg) payload. The day/night camera can achieve a resolution rating of 7 on the NIIRS scale at 8,000 ft (2,400 m).
---