---
According to a tweet published by the Norwegian MoD on November 21, 2022, the aircraft carrier HMS Queen Elizabeth docked at Akershuskaia in central Oslo. She trained with Norwegian F-35 and will host meetings about UK-Norway defence cooperation while staying in Oslo.
Follow Navy Recognition on Google News at this link
---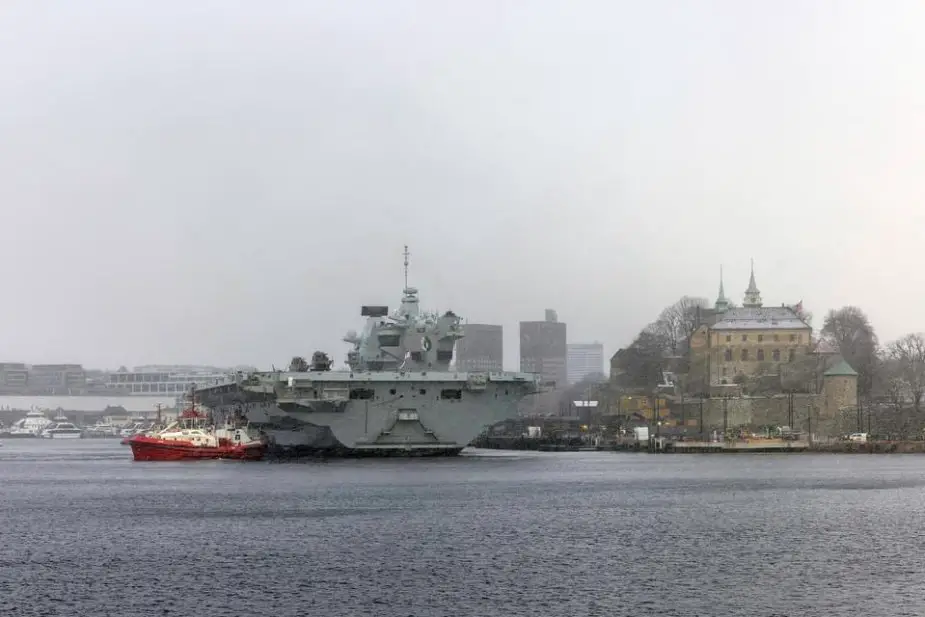 Royal Navy's aircraft carrier HMS Queen Elizabeth. (Picture source: Norwegian MoD)
---
HMS Queen Elizabeth is the lead ship of the Queen Elizabeth class of aircraft carriers and the Fleet Flagship of the Royal Navy. She began sea trials in June 2017, was commissioned on 7 December 2017 and entered service in 2020.
The ship is designed to operate V/STOL aircraft. The air wing will typically consist of F-35B Lightning II multirole fighters and Merlin helicopters for airborne early warning and anti-submarine warfare.
The design emphasises flexibility, with accommodation for 250 Royal Marines and the ability to support them with attack helicopters and large troop transports such as Chinooks.
HMS Queen Elizabeth has a length of 284 m (932 ft), a beam of 39 m (128 ft), overline, and a draught of 11 m (36 ft). She can carry a complement of 679 sailors.
The British aircraft carrier is powered by 36 MW MT30 gas turbine alternators and four 10 MW diesel engines to reach a top speed of 32 knots (59 km/h).
The ship's radars will be the BAE Systems/Thales S1850M for long-range wide-area search,[54] the BAE Systems Artisan 3D Type 997 maritime medium-range active electronically scanned array radar, and navigation radar.
The ship is fitted with INBS which is a multifunction console system located in the Ship's Bridge which incorporates the electronic navigation systems and the Ship's navigation radar – this will primarily be used by the Navigator to plot and track exactly where the Ship will be going.
Defensive weapons include the Phalanx Close-In Weapons System for anti-aircraft and anti-missile defence, and 30mm Automated Small Calibre Guns (fitted for but not with, and not carried as of 2021.) and Miniguns for use against fast attack craft.
---