---
According to a tweet published by the Prime Minister of Pakistan on November 25, 2022, the Turkish shipyard Asfat has launched the MILGEM class (Babur class) corvette PNS Khyber.
Follow Navy Recognition on Google News at this link
---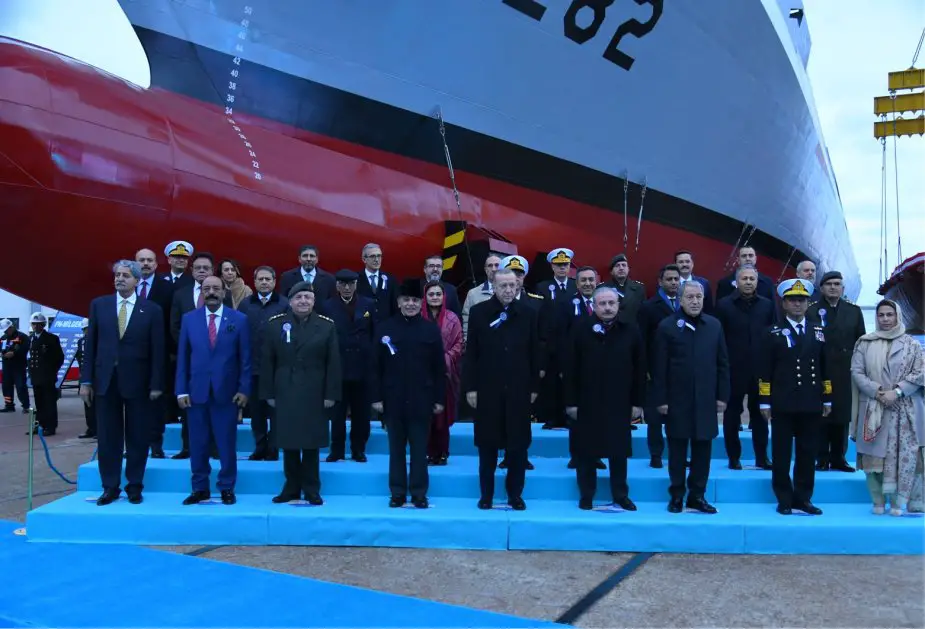 MILGEM class (Babur class) corvette PNS Khyber. (Picture source: Twitter account of PM of Pakistan)
---
The Babur-class corvette, also known as the PN MILGEM class, is a class of four heavy corvettes under construction for the Pakistan Navy. This class is a subclass of the Turkish MILGEM project.
MILGEM project is a national warship program of the Republic of Turkey. Managed by the Turkish Navy, the project aims at developing multipurpose corvettes, frigates and destroyers that can be deployed in a range of missions, including reconnaissance, surveillance, early warning, anti-submarine warfare, surface-to-surface and surface-to-air warfare, and amphibious operations.
The corvette has a length of 108.8 m (356 ft 11 in), a beam of 14.8 m (48 ft 7 in), and a draught of 4.05 m (13 ft 3 in). She can reach a top speed of 31 knots (57 km/h; 36 mph).
The ship has a displacement of 2,888 t (2,842 long tons) and a range of 3,500 nmi (6,500 km; 4000 mi). PNS Khyber can carry a complement of 133 sailors.
The PN MILGEM class is equipped with the SMART-S Mk2 passive electronically scanned array (PESA) radar, license manufactured by Aselsan. They are also equipped with the AKREP (AKR-D Block B-1/2) fire-control radar (FCR) - capable of tracking and providing target information over an approximate range of 120 km (75 mi).
The corvettes feature one OTO Melara 76 mm naval gun, one Aselsan GOKDENIZ 35 mm close-in weapon system and two Aselsan STOP 25 mm remote weapon stations - for providing short-range point defense against both aerial and surface threats.
---