---
According to information published by the US DoD on September 30, 2022, the Arleigh Burke-class guided-missile destroyer USS Lassen (DDG 82), the Brazilian frigate BNS União (F45), and the Tupi class submarine Tikuna conducted a 5-day maritime exercise that took place off the coast of Rio de Janeiro.
Follow Navy Recognition on Google News at this link
---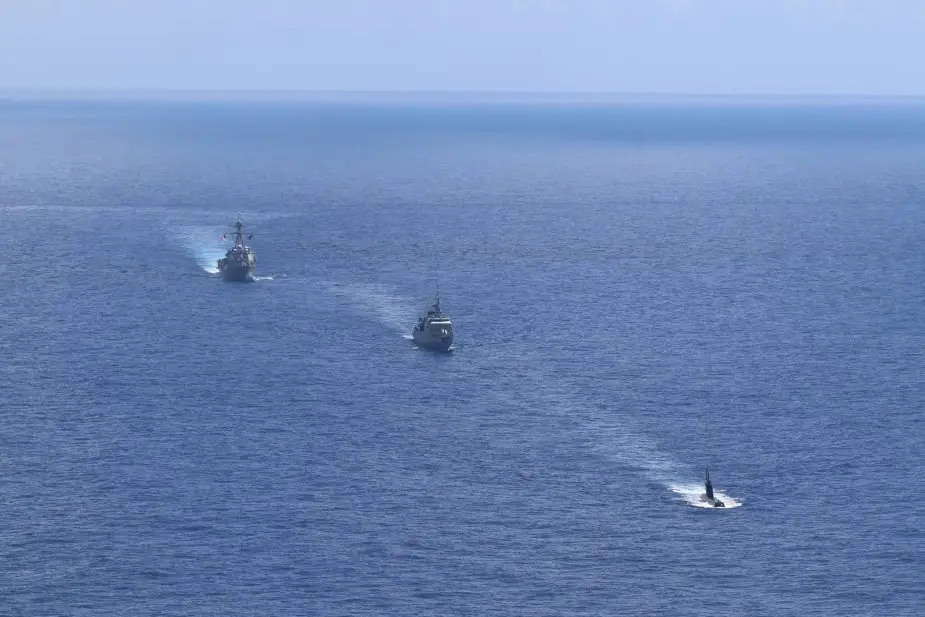 US Navy's Arleigh Burke-class destroyer USS Lassen, Brazilian frigate BNS União and Tipi class submarine Tikuna. (Picture source: DVIDS)
---
The bilateral exercise between U.S. and Brazilian forces focused on maritime security and strengthening maritime partnerships with partner nations.
The United States and Brazil Naval forces built a relationship on a shared vision of a free and open southwestern Atlantic Ocean, and a constant practice on eliminating illegal drug trade throughout the area. Both countries continued to work together and conducted bilateral exercises to strengthen regional consistency.
The Lassen and the União safely conducted rescue and assistance operations, gun exercises, flight operations with an MH-60R Sea Hawk helicopter attached to Navy Helicopter Squadron "Spartans" (HSM) 70 and a Brazilian Navy UH-12 Esquilo Helicopter, and a Close Air Support Exercise (CASEX) where both ships are given a wide area to search for submarines.
About the Brazilian submarine
S Tikuna (S-34) is a Type 209 submarine of the Brazilian Navy. Built-in the Brazilian Navy Yard in Rio de Janeiro (AMRJ), it was launched in March 2005 and incorporated into the Brazilian Navy on July 21, 2006, and then transferred to the Naval Operations Command. It is the fourth Brazilian Navy submarine made in Brazil and the largest ever built in the country.
The Tikuna is the fourth Brazilian Navy submarine built into the strategy of learning how to "Design, Construction and Repair" these resources and the largest submarine ever built by the country.
She has a crew of seven officers and 29 enlisted, eight torpedo tubes, and is powered by diesel-electric propulsion, with electric motor, batteries, and sets of diesel-engine generators.
Her design is based on that of the German IKL-209 design which originated the Tupi Class in Brazil. The Tikuna incorporates several technological innovations that provide better performance such as lower noise signature and longer period of submerged operation, particularly during battery recharge operations (Snorkel) while the vessel is snorkeling.
---
Br