---
According to information published by Военный Осведомитель on September 21, 2022, a naval drone of unknown type was discovered off the coast of Sevastopol.
Follow Navy Recognition on Google News at this link
---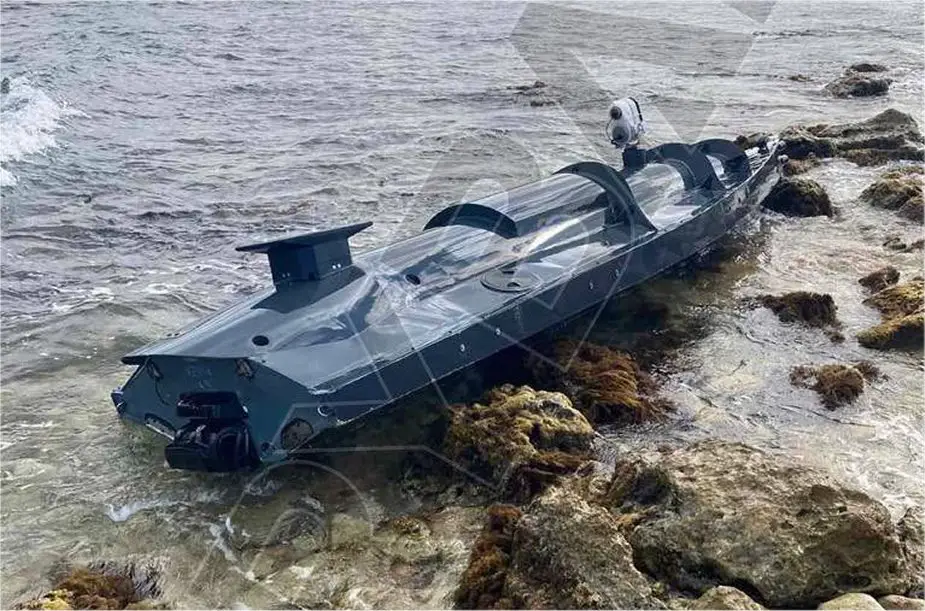 The naval drone found on a beach in Crimea (Picture source: Rybar)
---
At about the same time eyewitnesses in the vicinity of a beach filmed the moment of a strong explosion in the Black Sea due to the destruction of a naval drone.
In terms of visual signs and the force of the explosion that occurred, this vehicle looks like a "kamikaze" type with a detonating warhead. It is a semi-submersible drone and its task is to stealthily approach the target with subsequent detonation.
It is most likely controlled both manually using onboard TV cameras and via a satellite channel.
It is clear from the markings in English that they were transferred by Western countries. The supply of unmanned maritime vehicles for the needs of the AFU was mentioned a couple of months ago, but the type of possible equipment was not named.
Before that, there was information about MANTAS T-Series Unmanned Surface Vessels (USV). Perhaps a prototype was passed over because the drone found near the coast has the same dimensions, camera location, material, and color as the MARTAC production.
This drone is not similar to those already in service with any of the NATO countries and have been presented before. It is possible that a new type of weapon will be produced specifically for the AFU.
In addition, it could be the use of existing secret designs, such as American ones. And the conflict in Ukraine is an ideal opportunity to test them in combat conditions.
---