---
According to information published by Военный Осведомитель on September 23, 2022, the kamikaze drone "Geran-2" flew into a building in the harbor area in Odessa. Presumably, the Navy headquarters was hit.
Follow Navy Recognition on Google News at this link
---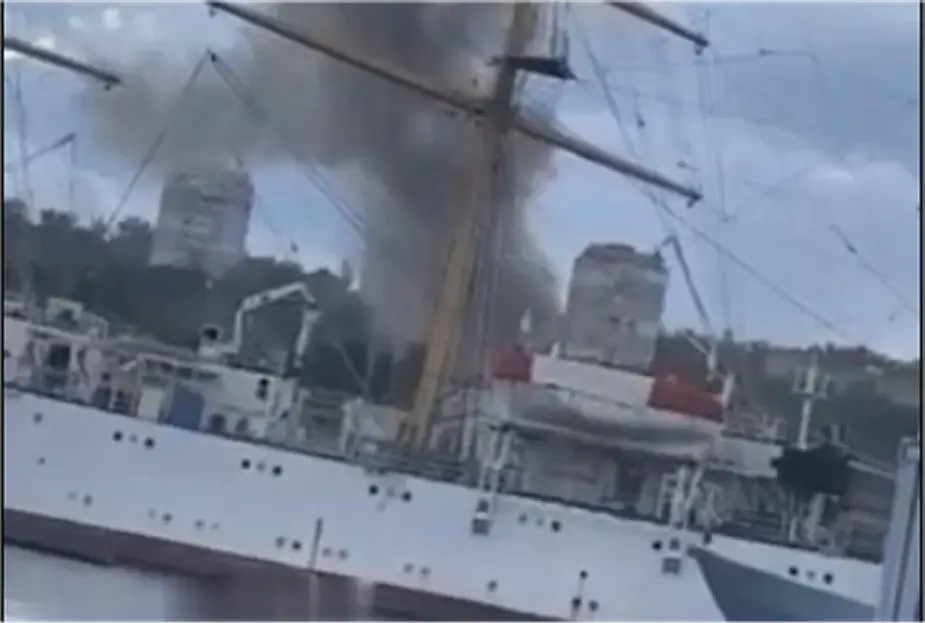 Screenshot of the Geran 2 kamikaze drone strike in Odesa, Ukraine. (Picture source: Военный Осведомитель)
---
As of July 2022, CNN reported on American recent declassified intel suggested that Iranians have given UAV combat drones to Russian forces.
So far neither the Russian nor the Iranian side has officially confirmed deliveries of Shahed-136 drones to Russia or the localization of their assembly in Russia under the name of M214 Geran-2.
The technical parameters of the kamikaze drone available in public sources are impressive, especially the range. The Shahed-136 has a length of 3.5 m, a wingspan of 2.5 m, and a weight of 200 kg.
The Iranian kamikaze drone is equipped with an explosive warhead and can fly at a range of up to 2,500 kilometers at a maximum speed of 185 km/h.
It is launched from the launcher in batches of five at a slight angle to the horizon. At the initial stage of flight, it is accelerated by a rocket booster, which is dropped almost immediately after launch, and then a conventional engine with a pusher propeller is turned on.
Due to the portability of the launcher frame, the entire device can be mounted in the back of any military or civilian truck, allowing for mobile operations with no chance of retaliating against the launcher.
---