---
According to a tweet published by Ryan Chan on September 27, 2022, the US Navy destroyer USS Zumwalt (DDG-1000) arrives at Commander, Fleet Activities Yokosuka, Japan, for a scheduled port visit.
Follow Navy Recognition on Google News at this link
---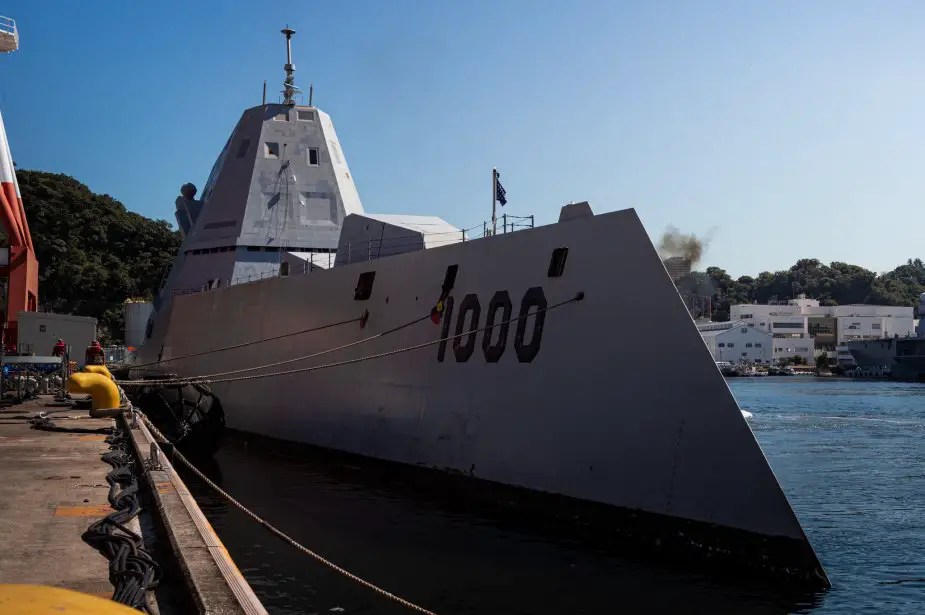 US Navy's Zumwalt class destroyer USS Zumwalt (Picture source: US DoD)
---
The U.S. Navy's newest warship, USS Zumwalt (DDG 1000) is the largest and most technologically advanced surface combatant in the world. Zumwalt is the lead ship of a class of next-generation multi-mission destroyers designed to strengthen naval power from the sea.
The ship is 610 feet in length and has an overall beam of 80.7 feet and a navigational draft of 27.6 feet. Two main turbine generators and two auxiliary turbine generators and two 33.6 megawatt advanced induction motors power the ship to sustained speeds of 30 knots.
These ships will feature a state-of-the-art electric propulsion system, wave-piercing tumblehome hull, stealth design, and the latest warfighting technology and weaponry available.
The Zumwalt-class destroyer will be capable of performing a range of deterrence, power projection, sea control, and command and control missions while allowing the Navy to evolve with new systems and missions.
It does all of this while maintaining its stealth - making this visually imposing ship difficult to find whether close to the shore or far out to sea. These warships possess stealth, size, power, survivability systems, and computing capacity that provide the Navy with the ability to meet maritime missions at sea now, as well as incorporate new technologies to meet emerging security environments.
The cutting-edge technologies of the DDG 1000 class create versatility and allow for sustained operations in the littorals and land attack, as well as support special operations forces, and operate as an integral part of joint and combined expeditionary forces. Its multi-mission design and littoral capabilities make it a globally deployable asset to the Fleet and any Combatant Command.
The DDG 1000 is armed with 20 MK 57 VLS (Vertical Launching System) modules, with 4 vertical launch cells in each module, 80 cells total. Each cell can hold one or more missiles, depending on the size of the missiles.
---