---
According to information published by the Greek MoD on September 27, 2022, it was decided to name the three Navy FDI HN frigates under construction in Lorient, France, as follows: Kimon, Nearchos, and Formion.
Follow Navy Recognition on Google News at this link
---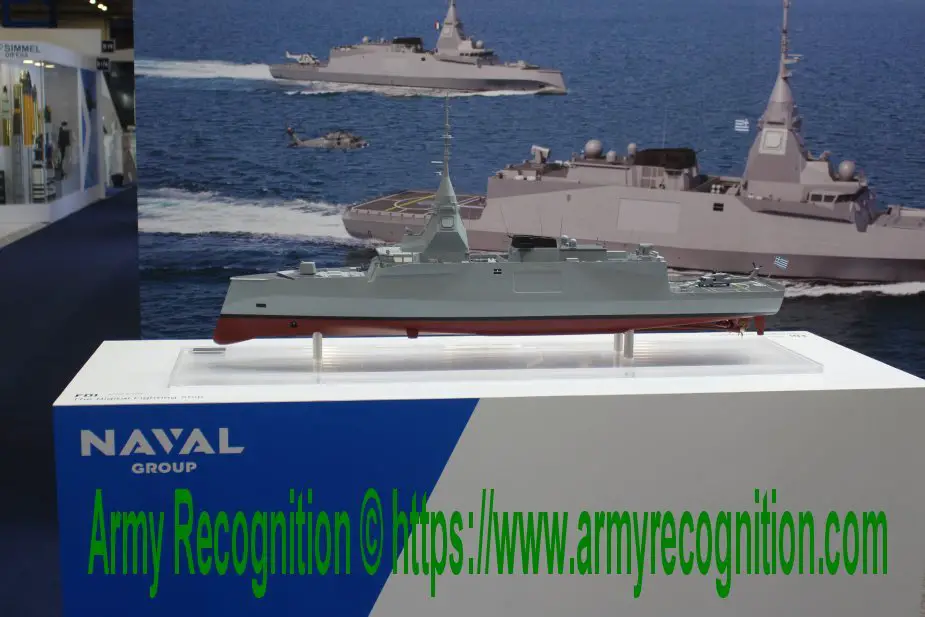 A model of the future FDI (Defence and Intervention Frigate) frigate (Picture source: Army Recognition)
---
Greece signed an agreement with France's Naval Group to purchase three FDI frigates with an option for one more for the Hellenic Navy as part of a $5 billion defence package.
Two of the vessels, destined for the French Navy in 2025, now will be delivered to the Hellenic Navy. The date of the construction agreement was anticipated to be at late 2021 or early 2022.
In December 2021 it was reported that an agreement for construction had been signed by France and Greece with the actual contract for the construction of the ships having been signed on 24 March 2022.
About the FDI HN frigate
The FDI HN will quickly and sustainably enhance the capabilities of the Hellenic Navy's surface fleet as they will be delivered in a very short timeframe, starting in 2025 for the first two units and in 2026 for the third one.
The FDI HN features high-level capabilities in all warfare domains: anti-ship, anti-air, antisubmarine and special forces projection. Its air and surface defenses are ensured by the most modern sensors, including the Thales Sea Fire, the first all-digital multifunction radar with an active antenna and fixed panels.
The FDI HN is equipped with a unique integrated mast that brings together all the airborne sensors, enabling permanent 360° surveillance. As the first frigate on the market to be natively protected against cyber threats, the FDI HN is equipped with two data centers hosting almost all of the ship's applications.
She will have a length of 122 m, a beam of 17.7 m, and a displacement of 4,460 tons. The ship will have a crew of 110 people as well as an aircrew detachment of approximately 15 people.
She will also have a flight deck and one hangar to accommodate one unmanned VTOL (Vertical Take-Off and Landing) aircraft or one NH-90 naval helicopter.
---