---
During LIMA 2023, the Langkawi International Maritime and Aerospace Exhibition currently ongoing in Malaysia, Fincantieri promotes for the first time its FCx30 corvette in the Indo-Pacific region.
---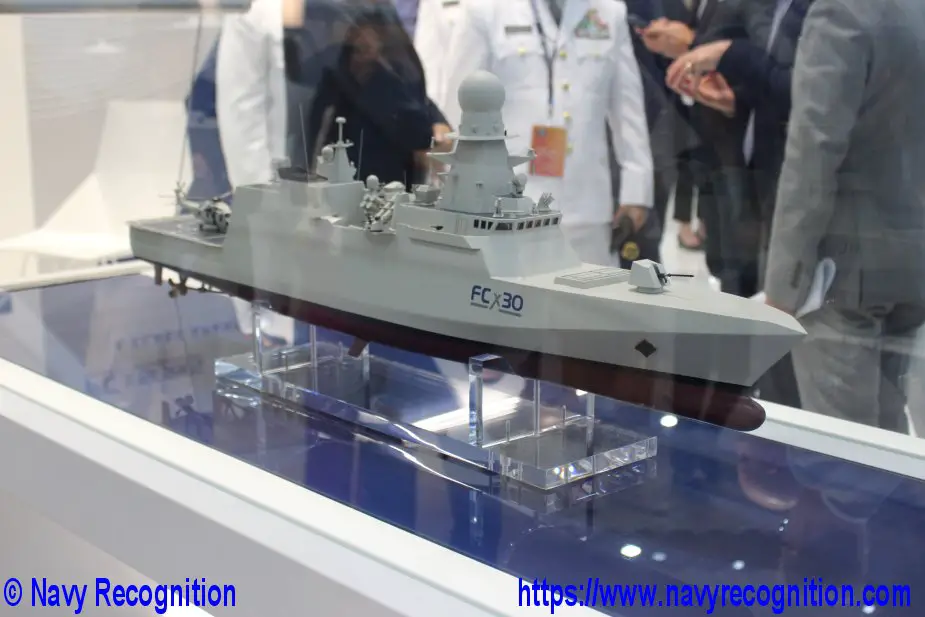 Fincantieri's booth at LIMA 2023 with a model of the FCx30 corvette. (Picture source: Navy Recognition)
---
With an overall length of 107.0 meters, a moulded breadth of 14.7 meters, and a moulded depth of 8.6 meters, this vessel exhibits a substantial size. Its displacement is approximately 3200 tons.
In terms of speed, the FCx30 corvette can reach up to 30 knots. Additionally, it offers an impressive range of 5000 nautical miles at 14 knots, showcasing its endurance and capability for extended operations.
Key features of the FCx30 corvette include its combat capabilities and emphasis on first-line ship survivability. Equipped with advanced digital and twin ship systems, as well as redundancy mechanisms, the corvette ensures optimal functionality, reliability, and resistance to adverse conditions at sea.
In its patrol configuration, the FCx30 corvette excels as a versatile vessel. It possesses strategic maritime defense capabilities and accommodates special forces RHIBs (rigid-hulled inflatable boats) for various operational requirements.
The corvette's main missions encompass a broad range of tasks. In combat scenarios, it serves as a master of all warfare domains, including its ability to engage in Tactical Ballistic Missile Defense and promote extended interoperability among naval forces.
For patrol missions, the FCx30 corvette is adept at maritime counterterrorism, interdiction support, and counter-piracy operations. These endeavors highlight its role in maintaining maritime security and safeguarding international waters.
---