---
According to some photos published on April 13, 2023, the Chief of Staff of the People's National Army of Algeria Said Chengriha showed his interest in the Brahmos anti-ship missile on the occasion of the LAAD exhibition taking place in Brazil.
Follow Navy Recognition on Google News at this link
---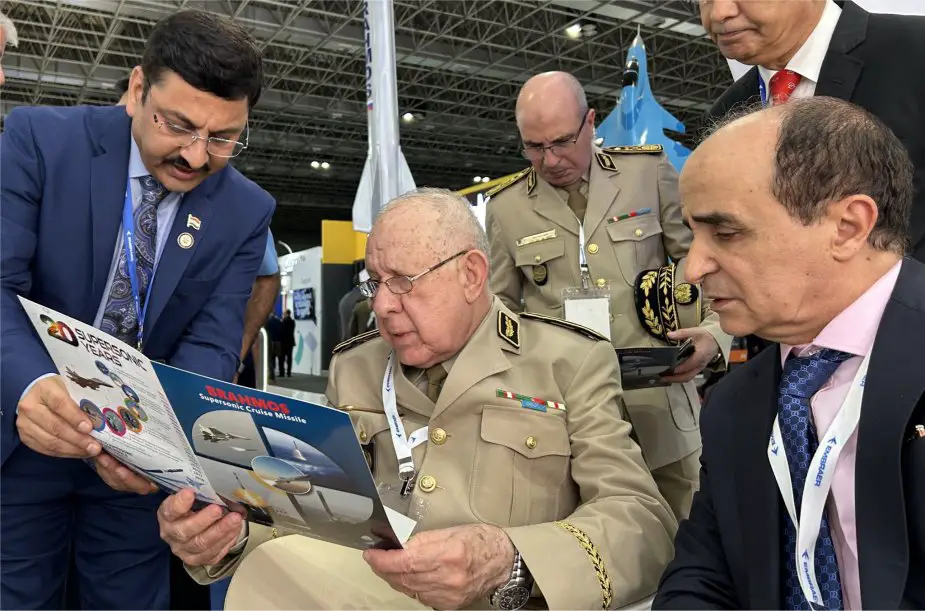 Chief of Staff of the People's National Army of Algeria Said Chengriha at LAAD 2023, Brazil. (Picture source: Restitutor Orientis)
---
LAAD Defence & Security is an annual trade show that showcases the latest defense and security technology in Latin America. It is considered the largest and most significant exhibition of its kind in the region, with the support of the Ministry of Defense, the Armed Forces, the Ministry of Justice, and the Brazilian Public Security structure.
The event attracts manufacturers and suppliers of technology for the Armed Forces, Polices, Special Forces, high executives of defense and security industry, and government agencies. It also brings together managers of large corporations, service concessionaires, and critical infrastructure.
About the Brahmos
The BrahMos missile is a joint venture between the Indian DRDO and Russian NPO Mashinostroyeniya, and is the world's fastest supersonic cruise missile.
It can be launched from submarines, ships, airplanes or land, and has already entered service in its land and ship-launched versions. In 2019, an air-launched variant of BrahMos was introduced.
The missile's propulsion is based on the Russian missile, while missile guidance has been developed by BrahMos Aerospace. The missile has a range of more than 500 km (310 mi) from ship and land platforms, while the air-launched variant has a range of 450-500 km (280-310 mi).
Its flight altitude can be as low as 3-4 meters, and it has a maximum speed of Mach 3. The missile has a warhead of 200-300 kg (440-660 lb) and an accuracy of 1 m CEP.
Plans are underway to develop a new generation of BrahMos missiles with an 800 km range that can hit protected targets with pinpoint accuracy, and eventually upgrade all missiles to a range of 1,500 km.
---