---
According to information published by New Zealand Herald on April 14, 2023, the French Floreal class frigate Vendémiaire class was spotted by chance by the coast guard near the coast of New Zealand. However, the information is surprising, as the frigate Vendémiaire has been in New Zealand since January for a refit.
Follow Navy Recognition on Google News at this link
---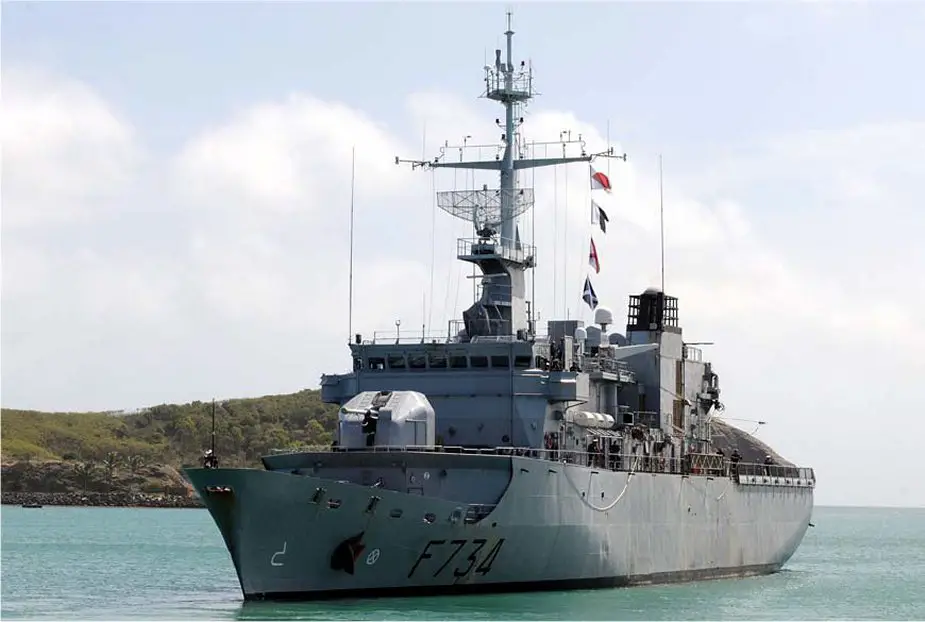 French Navy's Floreal class frigate Vendemiaire. (Picture source: French MFA)
---
A few days ago, Vendémiaire's sister ship, Prairial, passed through the Taiwan Strait, a strait claimed by China and where the United States claims that navigation is free.
France indeed has the ambition to present itself as a power in the Indo-Pacific. It has an extremely vast Exclusive Economic Zone (EEZ) in the region, whether it's through New Caledonia or French Polynesia.
Frigate Vendémiaire
Vendémiaire is a Floréal-class frigate in the French Navy that was launched in 1991. She is named after the month of Vendémiaire in the French Revolutionary calendar.
The ship has a displacement of 2,600 tons (3,000 tons at full load) and is 93.5 meters (306 ft 9 in) long with a beam of 14 meters (45 ft 11 in) and a draught of 4.3 meters (14 ft 1 in).
Her propulsion system consists of four SEMT Pielstick 6 PA6 L280 BPC diesel engines with a total power of 6,580 kW (8,820 hp) and two shafts, as well as a 203 kW (272 hp) bow thruster.
Vendémiaire has a top speed of 20 knots (37 km/h; 23 mph) and a range of 9,000 nautical miles (17,000 km; 10,000 mi) at 15 knots (28 km/h; 17 mph). The ship has a complement of 90 personnel and can carry up to 24 marines.
Vendémiaire is equipped with various sensors and processing systems, including the DRBV-21C (Mars) air sentry radar, Racal Decca RM1290 navigation radar, and Racal Decca RM1290 landing radar.
The ship is also equipped with the ARBG-1A Saïgon electronic warfare system and two Dagaie decoy systems. Its armament includes one 100 mm CADAM turret with Najir fire control system and two 20 mm modèle F2 guns.
Vendémiaire can operate one helicopter, either a Panther or a Eurocopter Dauphin N3, which replaced the previous Aérospatiale Alouette III in 2022. The ship has a flight deck and hangar for the helicopter.
---