---
According to information published by US DoD on April 19, 2023, Raytheon Missiles & Defense is awarded a $308,456,187 contract for an option exercise of Combat System engineering, miscellaneous material, and travel supporting Combat System installation, integration, development, testing, correction, maintenance, and modernization of Zumwalt-class mission systems and mission system equipment.
Follow Navy Recognition on Google News at this link
---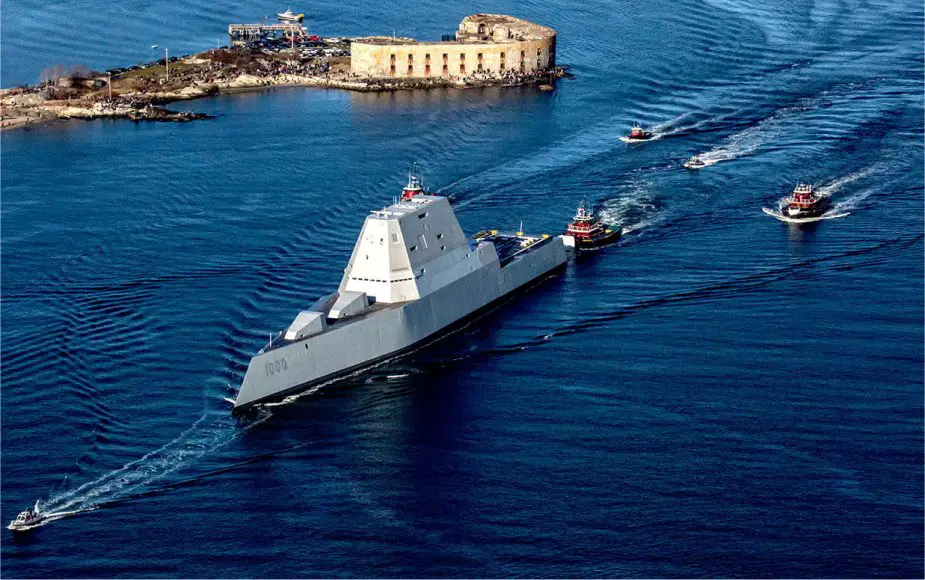 Zumwalt class destroyer USS Zumwalt. (Picture source: Raytheon)
---
Work will be performed in Tewksbury, Massachusetts (37%); Portsmouth, Rhode Island (37%); San Diego, California (22%); Nashua, New Hampshire (2%); Pascagoula, Mississippi (1%); and Fort Wayne, Indiana (1%), and is expected to be completed by April 2024. The Naval Sea Systems Command, Washington, D.C., is the contracting activity.
About the Zumwalt class
The Zumwalt class is a type of guided-missile destroyer with a displacement of 15,656 long tons (15,907 t) and a length of 610 ft (190 m). She has a beam of 80.7 ft (24.6 m) and a draft of 27.6 ft (8.4 m).
The ship is powered by a total of 78 MW (105,000 shp) from two Rolls-Royce MT30 gas turbines (35.4 MW each), two Rolls-Royce RR4500 turbine generators (3.8 MW each), and two propellers driven by electric motors. The ship has a top speed of 30 knots (56 km/h; 35 mph).
The Zumwalt class destroyer has a complement of 147 personnel and can accommodate an air detachment of 28 people. She is equipped with an AN/SPY-3 Multi-Function Radar (MFR) that operates in the X-band and is an active electronically scanned array.
The ship has 20 MK 57 VLS modules, with 4 cells per module and a total of 80 launch cells. Each cell can contain either 4 RIM-162 Evolved Sea Sparrow Missiles (ESSM), 1 Tomahawk missile, or 1 Vertical Launch Anti-Submarine Missile (ASROC).
The ship is armed with two 155 mm (6 in)/62 caliber Advanced Gun Systems (AGS), but they are functionally inoperable with only a nominal ammunition supply. She also has two 30 mm (1.2 in) Mk 46 Mod 2 Gun Weapon Systems.
The Zumwalt class destroyer can carry one SH-60 LAMPS or MH-60R helicopter and up to three MQ-8 Fire Scout VT-UAVs. The ship has a flight deck and an enclosed hangar for up to two medium-lift helicopters.
---