---
According to information published by the US DoD on April 21, 2023, the Navy has christened and launched the newest Independence-variant Littoral Combat Ship, the future USS Kingsville (LCS 36), during a ceremony in Mobile, Alabama.
Follow Navy Recognition on Google News at this link
---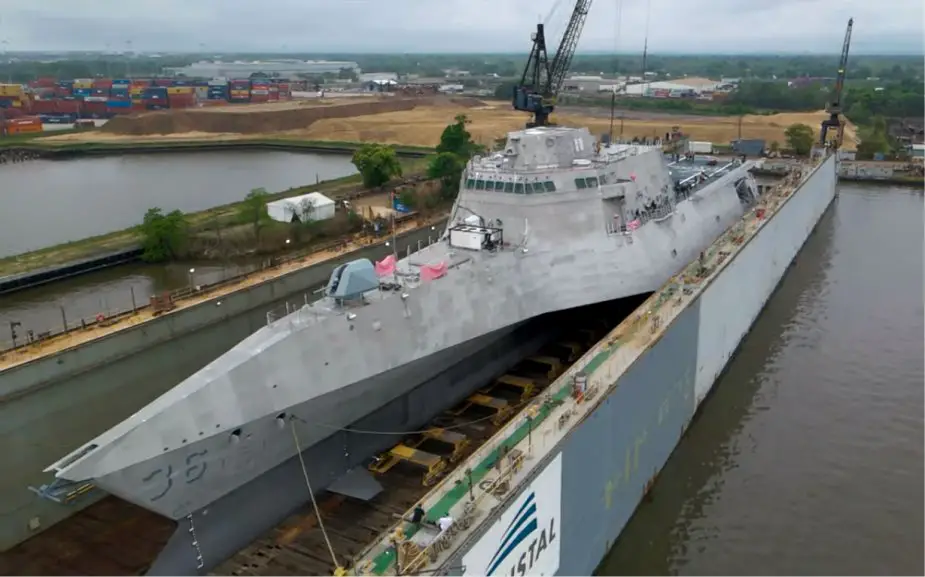 Independence-variant Littoral Combat Ship Kingsville. (Picture source: Austal)
---
The USS Kingville was awarded for construction on 14 December 2018 and was built by Austal USA. The ship was laid down on 23 February 2022 and launched on 23 March 2023.
The ship has a displacement of 2,307 metric tons light, 3,104 metric tons full, and 797 metric tons deadweight. She measures 127.4 meters (418 feet) in length, with a beam of 31.6 meters (104 feet) and a draft of 14 feet (4.27 meters). Her propulsion system includes 2 gas turbines, 2 diesel engines, 4 waterjets, a retractable Azimuth thruster, and 4 diesel generators.
The Kingsville has a top speed of 40 knots (74 km/h; 46 mph) and can reach up to 47 knots (54 mph; 87 km/h) in a sprint. Its range is 4,300 nautical miles (8,000 km; 4,900 mi) at 20 knots (37 km/h; 23 mph).
The ship has a capacity of 210 tonnes and can accommodate a complement of 40 core crew members (8 officers, 32 enlisted) and up to 35 mission crew members.
The ship's sensor and processing systems include the Sea Giraffe 3D Surface/Air RADAR, Bridgemaster-E Navigational RADAR, and AN/KAX-2 EO/IR sensor for GFC. Her electronic warfare and decoy systems comprise the EDO ES-3601 ESM and 4 SRBOC rapid bloom chaff launchers.
Kingsville's armament consists of a BAE Systems Mk 110 57 mm gun, 4 .50 cal (12.7 mm) guns (2 aft, 2 forward), and an Evolved SeaRAM 11 cell missile launcher. She also has mission modules for various tasks. The ship can carry 2 MH-60R/S Seahawks and an MQ-8 Fire Scout unmanned aerial vehicle.
---