---
According to a tweet published by the French MoD on January 31, 2023, the FREMM frigate Bretagne successfully launches a MU90 torpedo against a nuclear-powered submarine during an exercise in the Southwest of France.
Follow Navy Recognition on Google News at this link
---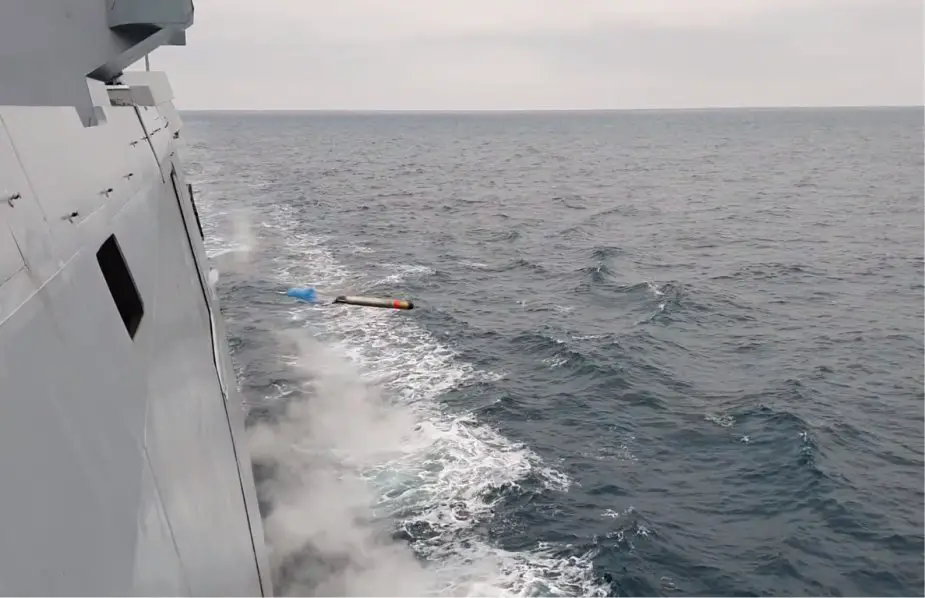 FREMM frigate Bretagne launching MU90 torpedo. (Picture source: French MoD)
---
FREMM (Frégate Européenne Multi-Mission) Bretagne is a multi-mission frigate class built by the French and Italian Navies. She is part of the FREMM program, a European cooperative program aimed at producing a common frigate design for the navies of France and Italy.
Constructed in 2013 the frigate Bretagne was launched in September 2016 and commissioned in February 2019.
The ship has a length of 142.8 meters and a beam of 20.7 meters with a displacement of 6,700 tons. She is powered by a Combined Diesel and Diesel (CODAD) system with two gas turbines and two diesel engines.
Bretagne has a maximum speed of 27 knots (50 km/h; 31 mph) and a range of 4,500 nautical miles at 15 knots. She can carry a complement of 145 sailors.
The ship is equipped with the Aster 30 Block 1NT anti-air missile system, Exocet MM40 Block 3 anti-ship missiles, MU 90 torpedo system, Sylver A50 launch system, a 76mm main gun, and two Simbad RCWS with Mistral missiles.
She features the Herakles multi-function radar, Thales Tacticos combat management system, DR3000 ESM/ECM system, a VDS bow-mounted sonar, and an L-band navigation radar.
---