---
According to information published by Военный Осведомитель on May 26, 2023, the Ukrainian Navy held a ceremony to officially hand over a newly constructed "Gyurza-M" river armored boat, named "Bucha," as part of their fleet.
Follow Navy Recognition on Google News at this link
---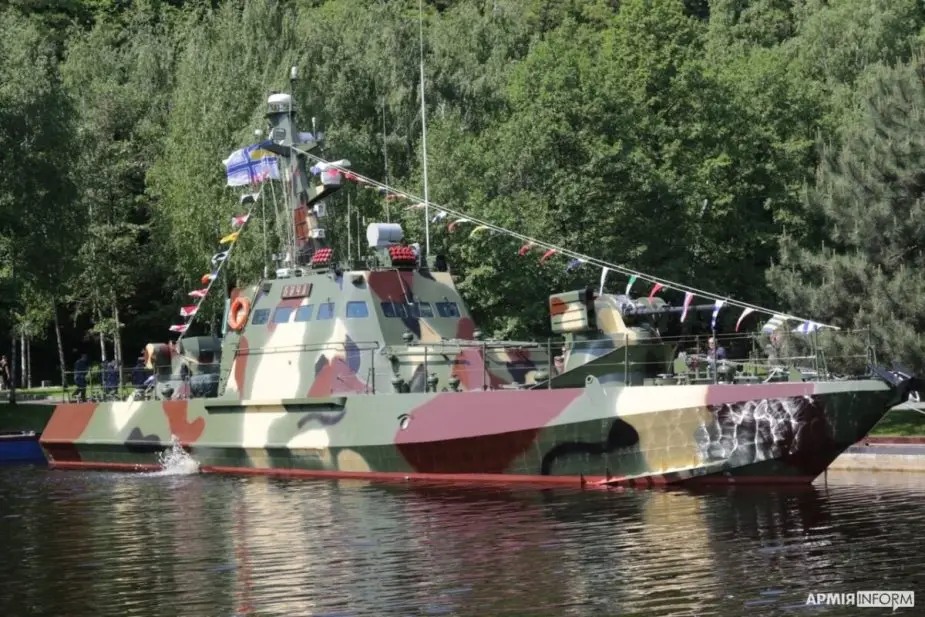 Ukrainian Gyurza M class gunboat Bucha. (Picture source: АрміяInform)
---
Despite being laid down before the start of major combat operations, the boat was commissioned and underwent trials during the ongoing battles. An interesting aspect of the ceremony was the presence of Commander-in-Chief Zaluzhny, who had recently been reported as either killed or seriously injured.
Due to the intense fighting, the Ukrainian Navy quickly lost five out of their eight "Gyurza-M" boats. The surviving vessels were transferred from the Black Sea to join the newly established Dnipro River Flotilla.
About the Project 58155
With a displacement of 54 tons at full load, the Gyurza-M gunboat measures 23.0 meters in length, 4.8 meters in width, and has a draft of 1.0 meter. Powered by two diesel engines, it can achieve a remarkable speed of 25 knots, allowing for swift and responsive maneuvering on the water.
In terms of range, the Gyurza-M gunboat is equipped to travel up to 900 miles at a speed of 12 knots, ensuring extended operational capabilities even in distant areas. Its autonomy spans five days, enabling it to operate autonomously without immediate external support.
Manned by a crew of five highly trained individuals, the Gyurza-M gunboat is equipped with state-of-the-art navigation and radar equipment. This includes the Delta-M radar system, the Sarmat electronic warfare system, and laser emission detection sensors, all of which enhance situational awareness and ensure effective operation in various conditions. The integration of an advanced bridge further facilitates seamless communication and coordination among the crew.
The Gyurza-M gunboat is armed to the teeth with a diverse array of weaponry. It boasts two KAУ-30M remote-controlled weapon systems, enabling precise targeting and engagement of threats.
The arsenal also includes a formidable ZTM-1 30mm autocannon, a KBА-117 30mm grenade launcher, and a KM-7.62 7.62mm machine gun. Furthermore, the gunboat is equipped with two Barrier anti-tank missile systems, a portable surface-to-air missile system, and the capability to deploy mines when required.
To safeguard the crew and critical components, the Gyurza-M gunboat features reinforced armor in key areas. The wheelhouse, engine compartment, and weapon compartments are all carefully protected to withstand potential threats and ensure the vessel's operational readiness.
---