---
According to information published by the Taiwanese MoD on June 28, 2023, two Russian warships were spotted near the Taiwanese ZEE. According to the photos available, this is at least one Steregushchiy-class corvette.
Follow Navy Recognition on Google News at this link
---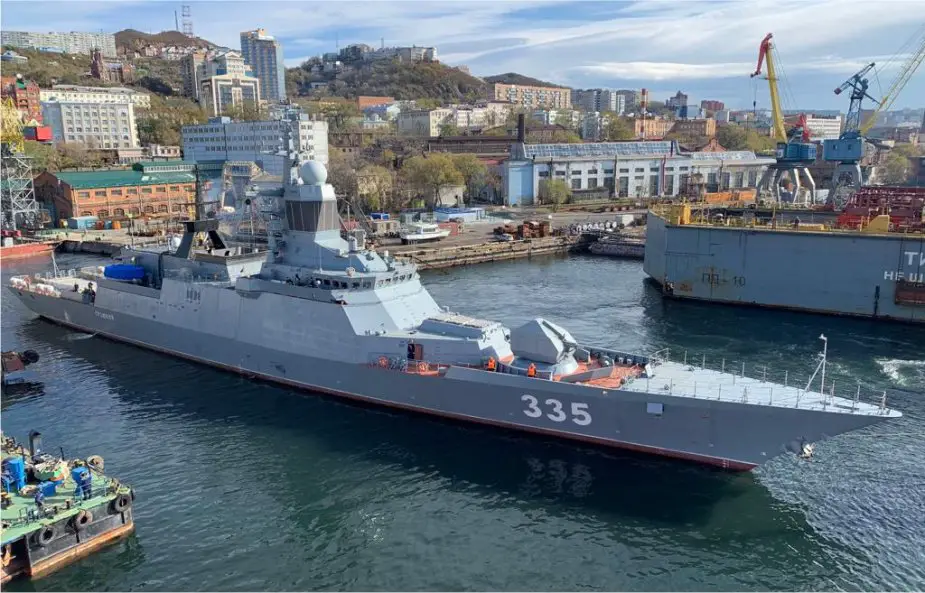 Russian Navy's Steregushchiy-class corvette Gromkiy. (Picture source: US DoD)
---
The standard displacement of the Steregushchiy-class corvette is 1,800 tons, which can increase up to 2,200 tons when fully loaded. The corvette spans a length of 104.5 meters, with a beam of 13 meters and a waterline width of 11.6 meters. She has a draught of 3.7 meters.
Powering this mighty ship is a 380/220 V AC, 50 Hz power system equipped with 4x630 kW diesel gensets. The propulsion comes from a 2-shaft CODAD mechanism, supported by 4 Kolomna 16D49 diesels that produce 23,664 horsepower (17.6 MW). This combination enables the corvette to attain a maximum speed of 27 knots.
The Steregushchiy-class corvette boasts a considerable range of 3,800 nautical miles at 14 knots and can stay operational at sea for up to 15 days. It is designed to accommodate a crew of 90.
The corvette comes fitted with an array of high-end sensors and processing systems. It possesses air search radars like the Furke 2 and Zaslon (X- and S-band) for specific models, along with the surface search radar Granit Central Scientific Institute Garpun-B/3Ts-25E/PLANK SHAVE. For precise targeting, it uses the Monument targeting radar and the Ratep 5P-10E Puma for controlling its A-190 armament.
In terms of sonar systems, the ship uses the Zarya-M suite, bow mounted, and a Vinyetka low frequency active/passive towed array. It relies on the Gorizont-25 integrated navigation system for efficient navigation.
The Steregushchiy-class corvette is equipped with a formidable EW Suite: TK-25E-5 ECM and has countermeasures that include 4 PK-10 decoy launchers.
The vessel is armed with a 100mm A-190 Arsenal or 130mm A-192 naval gun, a Kashtan CIWS-M, and 2 AK-630М CIWS. It also has 2 sets of 4 330 mm torpedo tubes for Paket-NK anti-torpedo/anti-submarine torpedoes, and two 14.5 mm MTPU pedestal machine guns.
---