---
According to information published by Военный Осведомитель on June 29, 2023, the first icebreaking patrol ship of project 23550, named "Ivan Papanin," currently under construction at the Admiralty Shipyards, has been assigned the hull number "400" for the Russian Navy.
Follow Navy Recognition on Google News at this link
---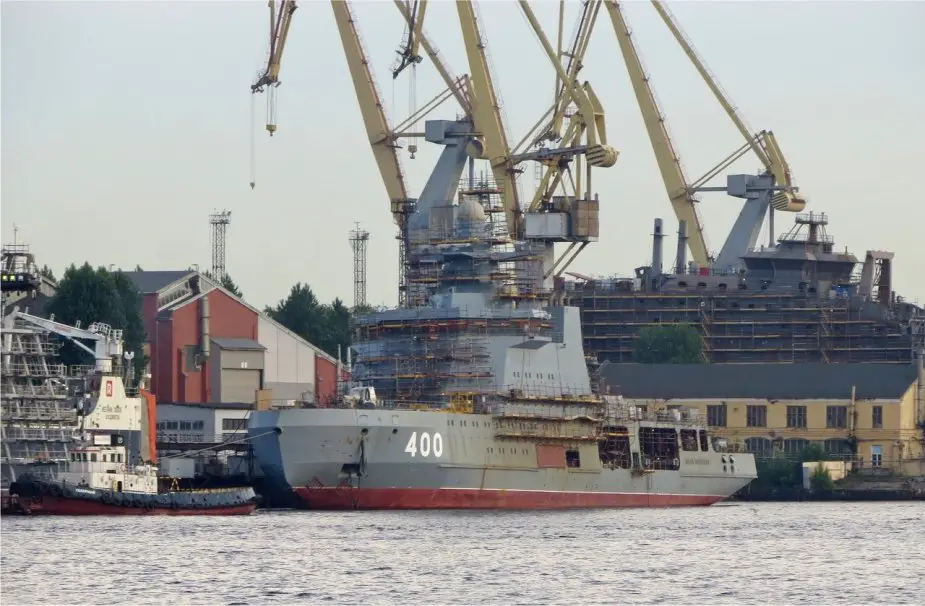 Project 23550 patrol ship Ivan Papanin. (Picture source: Curious / sudprom)
---
An icebreaker is a vessel designed to navigate through ice-covered waters, ensuring safe passage for other ships. It possesses a strengthened hull, an ice-clearing shape, and the power to push through sea ice, distinguishing it from regular ships.
About the patrol ship
Ivan Papanin has a displacement of 6,800 tons in standard configuration, which increases to 8,500 tons at full load. The ship measures 114 meters in length, 18 meters in beam, and has a draught of 6 meters. She is classified as RS Arc7, indicating its high ice-class capabilities.
The ship is powered by four Kolomna 28-9DG gensets, each producing 3,500 kW of power. Its propulsion system utilizes Integrated Electric Propulsion (IEP) with two shafts, providing a combined power output of 6,300 kW (8,400 hp). To enhance maneuverability, the vessel is equipped with two bow thrusters.
With a maximum speed of 18 knots (33 km/h; 21 mph), the icebreaking patrol ship has a range of 10,000 nautical miles (19,000 km; 12,000 mi) at a speed of 10 knots (19 km/h; 12 mph). The ship has a complement of 60 core crew members and can accommodate an additional 50 mission-specific personnel.
In terms of armament, the ship features a 76.2 mm AK-176MA naval gun, four 12.7 mm Kord machine guns, and two 30 mm AK-630M CIWS ("Ermak" Type).
She is also armed with eight 3M-54 Kalibr missiles ("Arktika" Type). The icebreaking patrol ship has aviation facilities including a helipad and hangar capable of accommodating a Ka-27 helicopter.
---