---
According to information published by Defense24Pl on June 28, 2023, discussions between Poland and Ukraine are underway regarding Kyiv's acquisition of the Coastal Missile Division system. This system, which can target both sea and land objects, could potentially be purchased by Ukraine.
Follow Navy Recognition on Google News at this link
---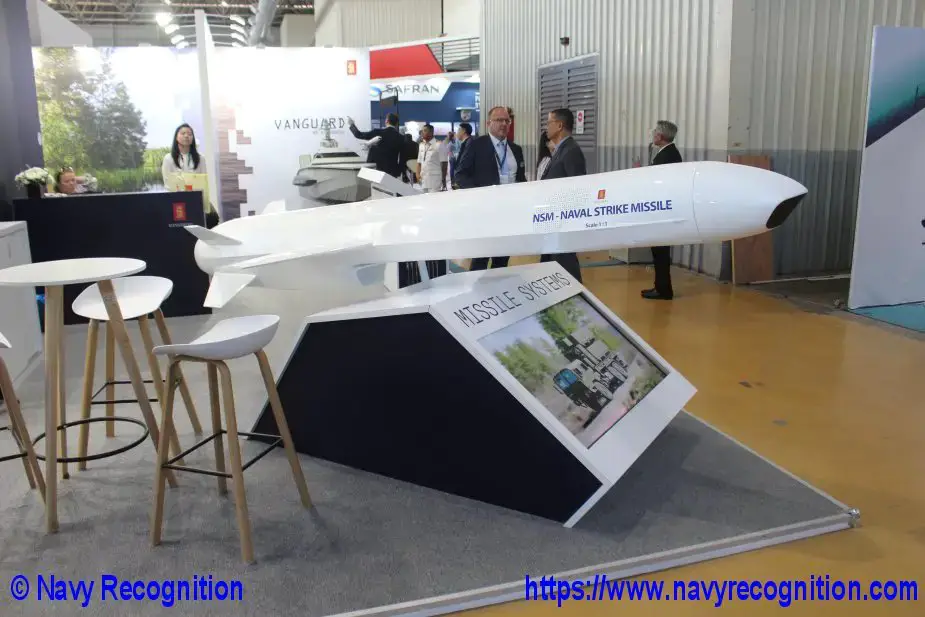 Model of the Naval Strike Missile on Kongsberg's booth at LIMA 2023, Malaysia. (Picture source: Navy Recognition)
---
The main armament of this system is the NSM (Naval Strike Missile) from Norwegian Kongsberg, capable of combating ships and land targets over 200 km away.
With the delivery of British-French air-to-ground Storm Shadow/Scalp EG missiles, Kiev would obtain another European long-range strike system, this time ground-launched.
The Polish Navy was the first user of NSM missiles in the ground-launched variant. After the Polish Navy, the US Marines, Romania, and Latvia decided to acquire such a solution.
In turn, among NATO countries, the United States and Norway use NSM missiles on their ships, and the Netherlands, Germany, and the UK also plan to introduce them.
NSM
Manufactured with precision, this missile weighs 400 kg, inclusive of the booster, and 350 kg without it. Its design has taken into account aerodynamics, with a length of 3.96 m when the booster is attached, and 3.48 m without it. When stowed, its width is a compact 700 mm, which expands to 1.36 m when the wings are deployed.
A standout feature of the NSM is its titanium-cased warhead that allows for penetrating blasts and controlled fragmentation. This destructive element weighs in at 120 kg, and is powered by a Microturbo TRI-40 turbojet along with a solid rocket booster.
In terms of operational capabilities, the NSM is impressive, boasting a range of over 200 km. This range is further extended to 250 km in the NSM 1A variant.
For stealth and evasive measures, the missile can fly at sea-skimming altitude. It can reach a maximum speed of Mach 0.93, which equates to 316 m/s or 1,040 ft/s.
It utilizes a GPS-aided INS (GAINS), a laser altimeter, and TERCOM for guidance, ensuring accurate and efficient target engagement. This missile is versatile, being capable of launch from naval ships and land-based vehicles.
---