a
Naval Industry News - France / Russia
Russian shipyards to build hulls for 2 Mistral-class warships
Russia's United Shipbuilding Corporation and the Baltiisky Zavod shipyard signed a 2.5 billion ruble ($80 million) contract on Friday to build hulls for the third and fourth French Mistral-class warships for the Russian Navy. The signing ceremony took place in the presence of Prime Minister Vladimir Putin.

French shipbuilder DCNS said on Wednesday it had received advance payment from Moscow under a $1.2-billion contract and would start the construction of the first warship for the Russian Navy.

Russian defense officials previously said Russia would account for 80% of labor inputs in building the third and fourth warships.

The two countries signed a contract in June on two French-built Mistral class amphibious assault ships including the transfer of sensitive technology.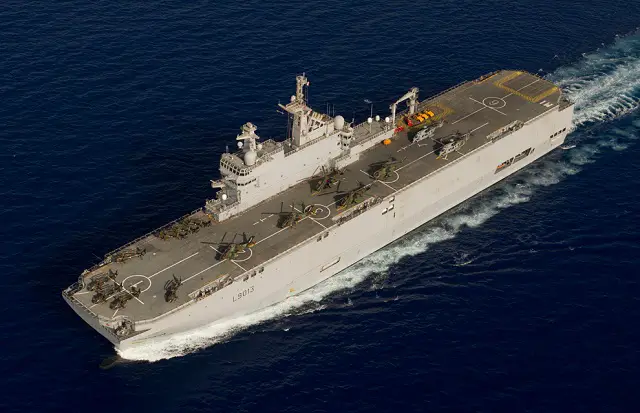 DCNS Mistral class used by the French Navy and soon by the Russian Navy
(picture: French Navy)

The first ship will be delivered in 2014 and the second in 2015.

Construction of the second ship should start in several months and will proceed simultaneously with the first, but will depend on when the full payment for the first ship is made, a DCNS source said.

A Mistral-class ship is capable of carrying 16 helicopters, four landing vessels, 70 armored vehicles, and 450 personnel.

A number of Russia's neighbors have expressed concern over the deal, in particular Georgia and Lithuania.

The Russian military has said it plans to use Mistral ships in its Northern and Pacific fleets.

Many Russian military and industry experts have questioned the financial and military sense of the purchase, and some believe that Russia simply wants to gain access to advanced naval technology that could be used in the future in potential conflicts with NATO and its allies.
From: Ria Novosti