a
Naval Forces News - France
French Aircraft Carrier Charles de Gaulle deploys in the Mediterranean
The aircraft carrier Charles de Gaulle set sail Friday, March 16, 2012 for a one month deployment in the Mediterranean Sea. Program: training and rise to power.

After a maintenance period, the carrier will begin its "Getting in Operational Condition" maneuvers (MECO). The maneuvers will be performed during one month and their goal is to validate all of the vessel's operational capabilities.

The first part of the deployment will be devoted to training young pilots of Embedded Air Group (GAE). They will perform several catapult launch and landings, both at day and night to get their qualifications. During this period, the GAE will consist of 7 Rafales, 7 Super Etendards Modernisés and 2 E2C Hawkeyes .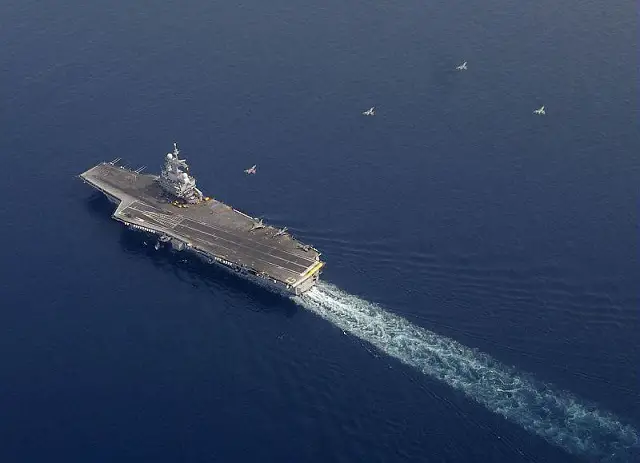 (picture: French Navy)

For the second part of the deployment, the aircraft carrier Charles de Gaulle will be joined by other vessels to to form a complete Battle Group (CVBG). This type of configuration is similar to that adopted during operations Agapanthus and Harmattan. They will participate together to FANAL exercise. 38 people from the Aero Maritime Rapid Reaction Force (FRMARFOR) will form the core of the General Staff exercise aboard the aircraft carrier, the Admiral Coindreau at their head. Objective: To conduct an operation in a fictitious crisis of medium / high intensity, multi-threat to train each unit of the CVBG to NATO standards.

The CVBG will consist of the air defense destroyer Chevalier Paul, anti-submarine frigates Dupleix and Montcalm, the command ship and tanker Meuse, the dispatch boat EV Jacoubet. A Caiman (NH90), and a Lynx helicopters and maritime patrol aircraft Atlantique 2 will also take part.
Source: French Navy