a
Naval Forces News - USA / UK
US Navy formalized ship specifications for the US' Ohio Replacement and UK's Successor Programs
The Navy formalized key ship specifications for both the United States' Ohio Replacement and United Kingdom's Successor Programs in a document signed Aug. 31 at the Washington Navy Yard.

Rear Adm. Thomas J. Eccles, chief engineer and deputy commander Naval Systems Engineering Directorate, Naval Sea Systems Command (NAVSEA) and Capt. William J. Brougham, Ohio Replacement program manager signed the Ohio Replacement First Article Quad Pack Ship Specification document, marking a major construction milestone.

"This document marks significant forward progress for both the U.S. and UK future strategic submarine deterrent programs," said Brougham. "It is a direct result of the engineering rigor and professionalism of government and industry partners on both shores of the Atlantic."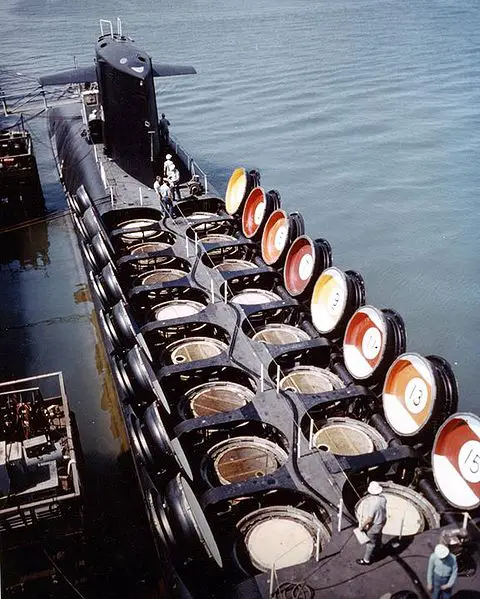 A US Navy SSBN seen with all its missile tubes hatches opened
(picture: US Navy archives)
Ship specifications are critical for the design and construction of the common missile compartment, which will be used by both nations' replacement fleet ballistic missile submarine (SSBN) programs. Specifically, the First Article Quad Pack Ship Specification establishes a common design and technical requirements for the four missile tubes and associated equipment that comprise each quad pack.

"The Ohio Replacement Program will serve as the backbone of our nation's nuclear deterrence into the 2080s," said Eccles. "It is vital that we perform the rigorous engineering, research, and design work now so that we can ensure that the platform is able to address and best the threats of future highly complex national security environments."

The Ohio Replacement SSBN Program is tasked with recapitalizing the nation's sea-based strategic deterrent in a cost-effective manner. The Navy plans to replace its current fleet of 14 Ohio-class SSBNs with only 12 Ohio Replacement SSBNs. The first Ohio Replacement is scheduled to begin construction in fiscal year 2021, deliver to the Navy in 2027, and conduct its first strategic deterrence patrol in 2031 after undergoing a rigorous testing and evaluation regime.

From Team Submarine Public Affairs